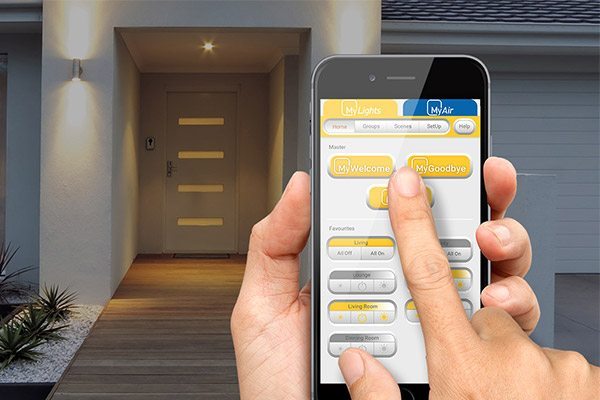 MyLights from Advantage Air:

Control your lights from your smartphone or tablet

MyLights is a smart LED home lighting system that allows you to control the lights in your home from anywhere, using your smart device, giving you convenience, security and comfort.

You can:
Turn on the lights from your driveway before you carry in your shopping
Control your lights while youre away or on holiday so it looks like youre home
Turn off your bedroom light from your bed
Adjust the dim settings to the mood
Turn on the outdoor lights if you hear some noises at night from your bed
Configure favourite lighting settings for specific needs, eg. movie night, dinner time
Switch off all the lights when you leave the house.
Why MyLights is 
AWESOME
It will save you money LEDs are much more efficient than halogen lights. For example, a standard home with 60 lights, that run for an average of 1.5 hours a day will cost $427.05 annually in lighting costs, compared with $85.41 using LED lights, and using the MyECO setting, will save you even more at $49.90 a year.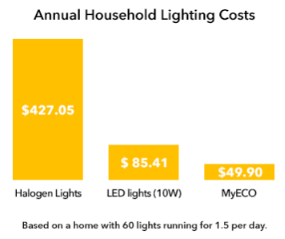 Affordable smart home lighting system MyLights costs substantially less than other systems.
Comes with an 8-inch Android tablet  which can operate so much more than your lights. Browse, check emails, organise the family calendar, play music from the one touch-screen.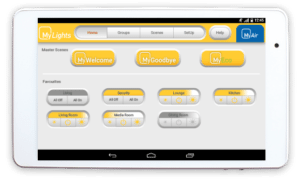 Option to add-on MyAir  You can add the MyAir Air Conditioning System from Advantage Air that seamlessly integrates with MyLights, that controls the temperature of each room individually using the MyPlace app.
Australian Made Quality and service is everything. MyLights is world class product designed and manufactured right here in Australia, and being local, offer excellent after-sales support and service. Advantage Air was founded in 1990, and is based in Perth, Western Australia. 
5-year Warranty  Being Australian-made, with quality components, Advantage Air offer a confident 5-year warranty on all electronic controls.
At Renew Energy, we set ourselves apart with our reputation for excellent service and respect for our customers, and other business owners. We want all of our customers to be happy with our service and experience. Our team is dedicated, experienced, knowledgeable and highly trained. Contact us for a chat to enquire about our services and see what we can do for you.