Solar Hot Water Servicing

Perth

Renew Energy | Solar Hot Water Service is a local Rheem Solar Specialist for quality Solar Hot Water Systems in Perth.  For years, Renew Energy has not only been supplying and installing new systems but also focusing on the aftermarket care of other trusted brands including Solar Edwards, Solahart, Chromagen, Conergy, Rinnai and Solargain.

More often than not, the most common reason we replace solar hot water systems is due to the lack of scheduled servicing. Unlike other common forms of hot water systems (including gas and electric storage), solar hot water systems typically run a lot hotter and in turn put more stress on the system. The higher water temperatures are due to the sun and weather not being controllable. Because of this, we cannot flick a switch and shut the sun off when the water gets to the desired temperature.
"Don't just put it up on the roof and forget about it."
A primary reason most people do not service their Solar Hot Water System is due to it been up on the roof and out of sight. We do not walk past it for regular routines such as; hanging out the laundry, putting the lawn mower back in the garage or commonly accessing the side gate. We just forget about its existence until we get in the shower and are surprised with no hot water!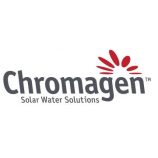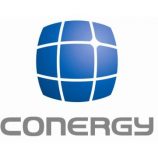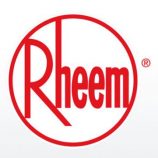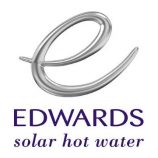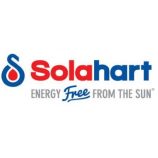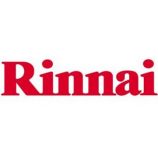 What gets done in a
Solar Hot Water Service

?

The two common forms of Solar Hot Water (SHW) Systems are Stainless Steel and Vitreous Enamel (also known as Steel or Glass-lined). The most notable difference between them is that the Vitreous Enamel units require a sacrificial anode and the stainless steel units do not. Depending on your location and water quality would suggest what option would be best suited for your requirements.
Six-Monthly

Solar Hot Water Maintenance
Every six months you should check the operation of the hot and cold relief valves - you can do this yourself.
The hot relief valve, located on the side of the tank should be released. This releases the pressure on the tank. As per today's regulations, the hot relief should be run to ground. In the past, it was acceptable to have this release onto the roof. When you get off the roof, you should find a puddle of HOT water by the hot relief pipe.
**Ensure your children's and pets safety. This water may be scalding hot.**
The cold valve, generally located at ground level on an outside wall, should also be released. It is also common in some older houses for this to be found in the laundry or the linen cupboard. If it is inside you may require a bucket to collect the water.
**Renew Energy takes no liability for anyone's safety when accessing their roof. If you are not confident to do so, please call our office and we can arrange for a service technician to visit.**
Five-Yearly

Solar Hot Water Servicing
This service must be carried out by a qualified plumber.
Replace the Hot Relief Valve.
Inspect, and replace if required, the Cold Relief Valve.
In the event of it being a Vitreous Enamel Solar Hot Water System, we will need to examine and replace if necessary the Sacrificial Anode.
Check the Heating Element for excessive build-up of Calcium and replace as required.
Wipe down the Solar Collectors.
Flush the system.
Complete a visual inspection of the SHW unit for potential problems.
Inspect all the connections and ensure no leaks.
Solar Hot Water Servicing Prices
Initial Call-Out Fee     $145 + Parts
Perth Metro area, as far north as Joondalup, Mandurah to the South and Mundaring to the East.
+ 5-Year service - Without a Sacrificial Anode $130.00
+ Sacrificial Anode $65.00
+ Thermostat $85.00
+ Heating Element $95.00
+ Combo Special Heating Element and Thermostat $150.00
+ HT55 Valve (Hot Relief) $95.00
+ H50 Valve (Cold Relief) $85.00
+ Solatrol Assembly $175.00
Happy Renew Energy Customers
I'm glad there are still companies like this out there. I put off my solar installation for 3 years because I could not find a company that I wanted to deal with.
Ben T - Floreat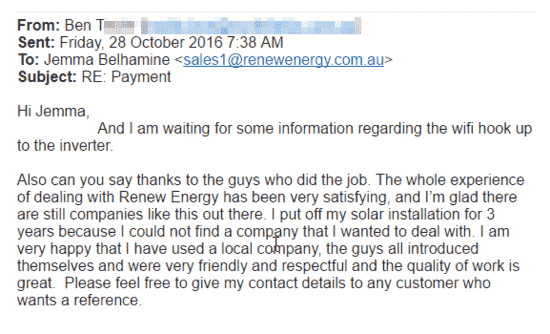 We had shopped around and actually made a commitment to another competitor, however...
Adrian and Sharon B - Hamersley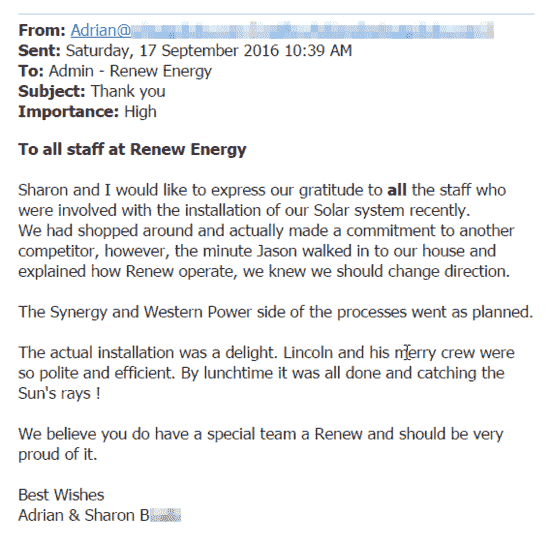 Really pleased with the support from Renew Energy and the speed the system was put in place.
Sue Q - Port Kennedy

We can highly recommend Glen, he was punctual, polite, easy to work with, knowledgable...
Helen & Ian K - Maida Vale
The guys did a wonderful job with the install.
Kathryn S - Chittering
I have no problems recommending you and the organisation, for your professionalism and an excellent after sales service.
Manny R - North Perth
It is clear you know your job well and unlike many 'sales-people' weren't pushy and provided me with all the facts I wanted and needed to know to make an educated decision.
Geoff H - Canning Vale
Very transparent... I don't know how many quotes I have received then they hit you with additional costs after the work is done.
Julie L - Palmyra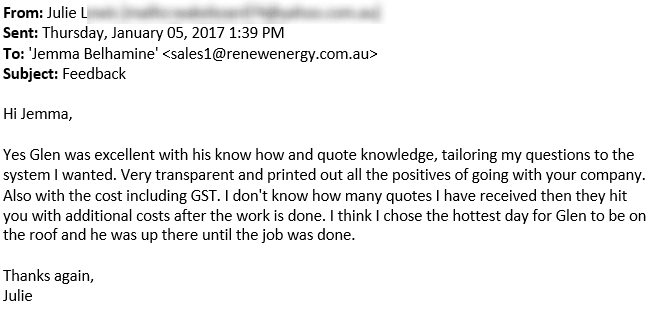 So I ended up with having 7 quotes done... But your company stood out by far!
Cheney C - Warwick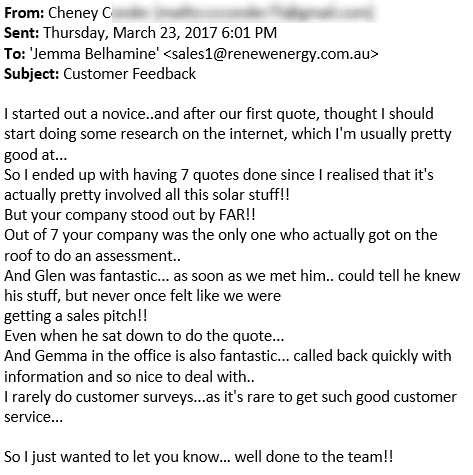 I would like to say how much it has been a pleasure dealing with you and Renew Energy.
Karen S - Munster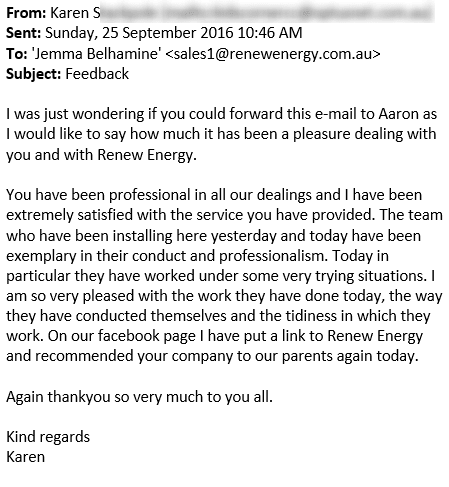 To have the system changed out within 5 hours of contacting your company is service I have never experienced before.
Bradley K - Waroona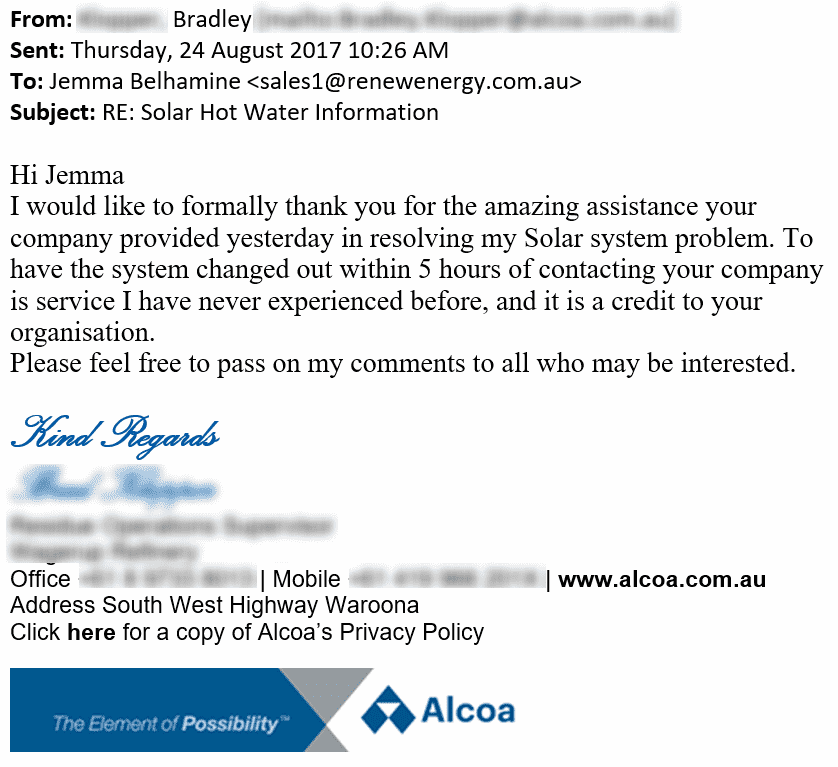 It is obvious they take pride in the work they do and go above and beyond to help the customer.
Wade O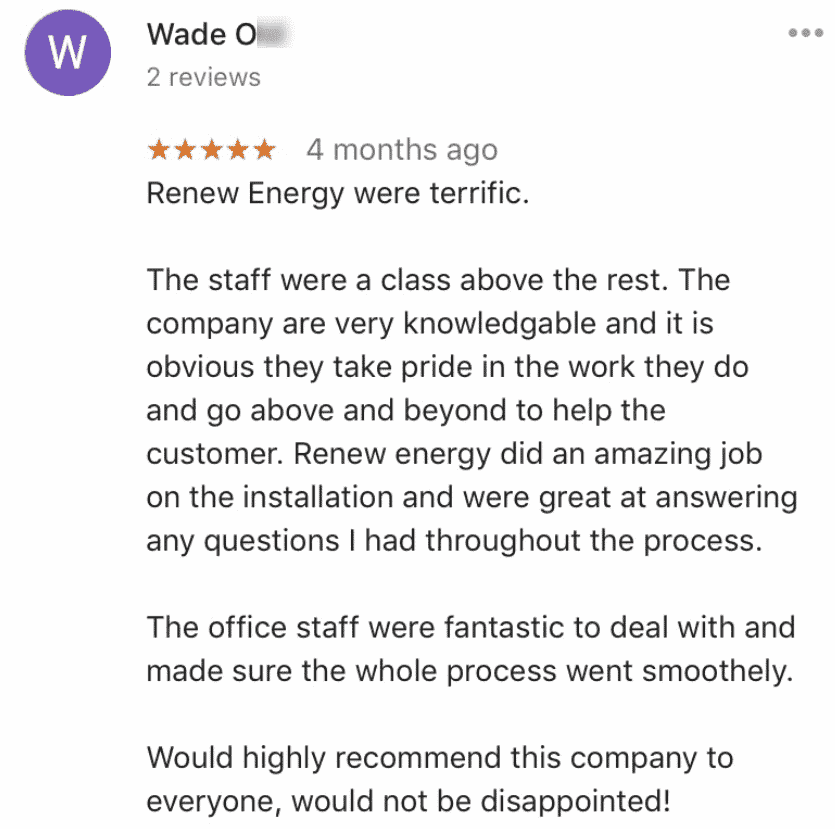 Yesterday we experienced the highest possible standard of professionalism and work ethic provided by the four man team of installers.
Greg & Susan - Alkimos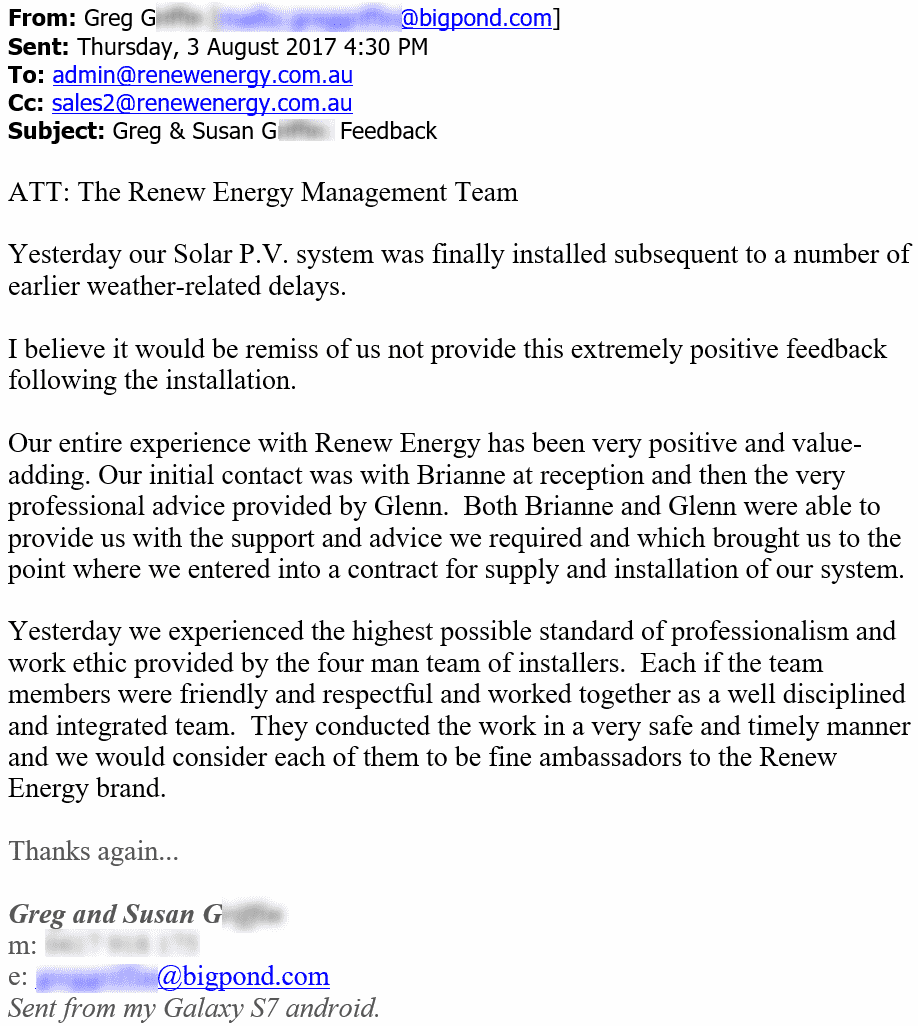 We are really happy with the install and the great customer experience from quote to hot water.
Michael L - Bullcreek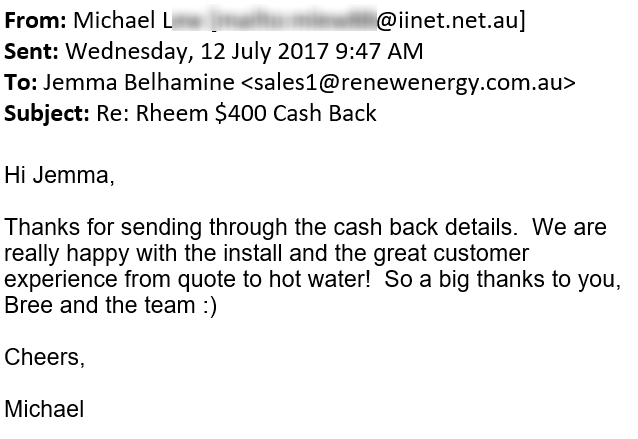 Thank you for all the professionalism you've shown throughout the process. I will continue to highly recommend your company to others.
Les M - Baldivis
Staff very knowledgable in solar hot water systems.
Inna G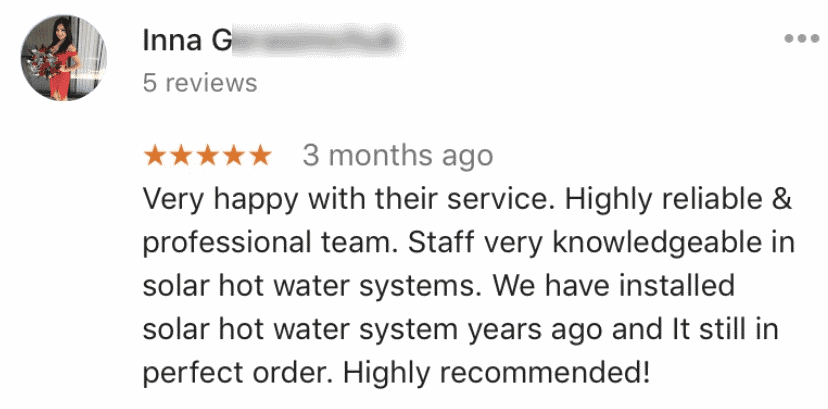 You left a very good impression and live up to the expectation of the great feedback from your clients.
Jim - Victoria Park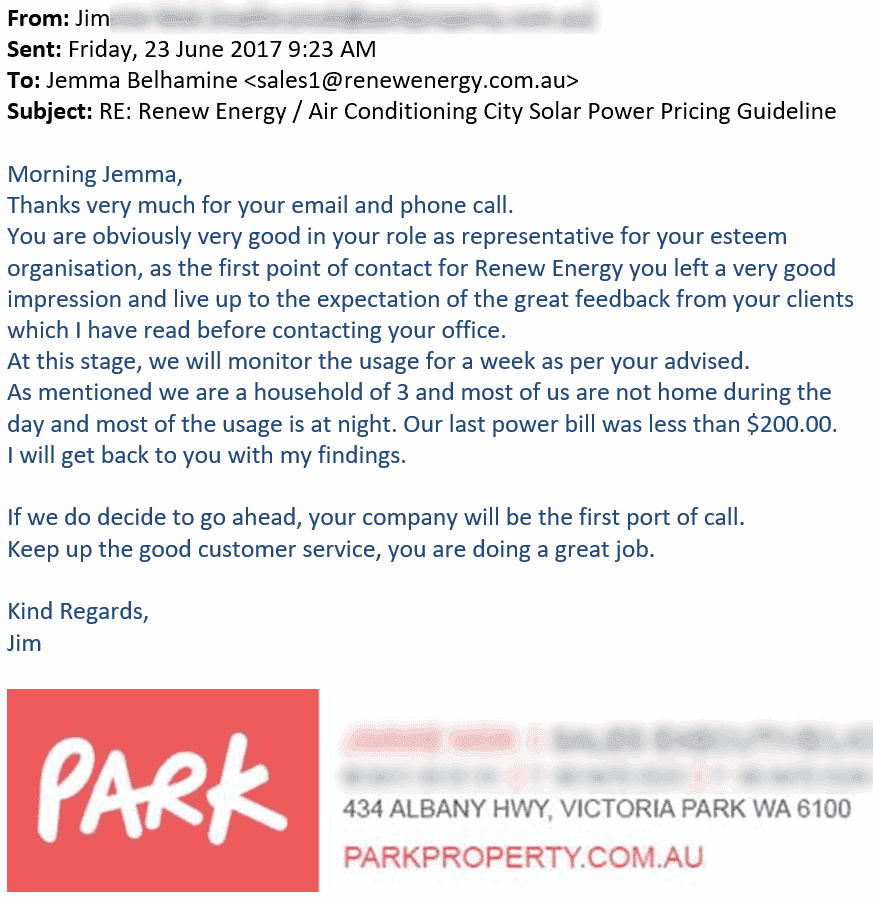 Renew will be at the top of my list when I can decide on the design of the PV system that best suits me.
J Poole - Mt Hawthorn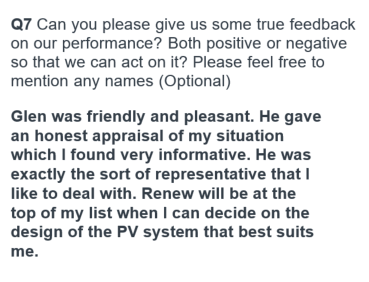 I got 6 quotes done and I did my research. These guys were way ahead of everyone.
Ravin P - Swan View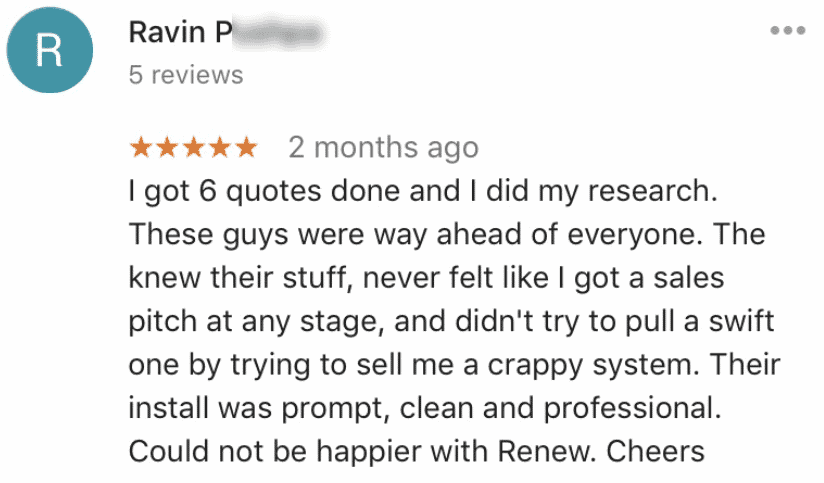 Thanks guys for very prompt service....
Helen T

Renew Energy came up (600+ return trip) within a fortnight of making the call and returned 10 days later to install.
Courtney M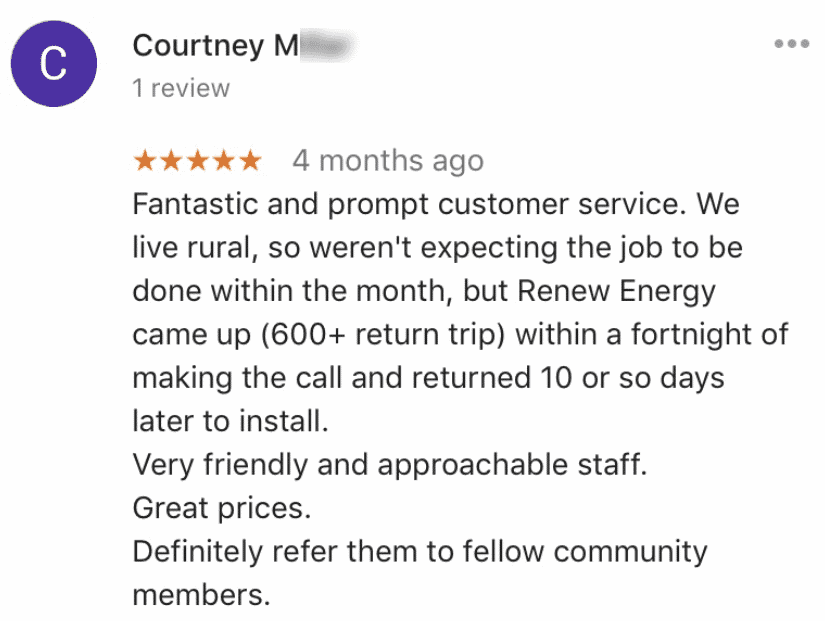 Glenn was nothing short of sensational and I would consider him a fine ambassador to the Renew Energy brand.
G Griffin - Alkimos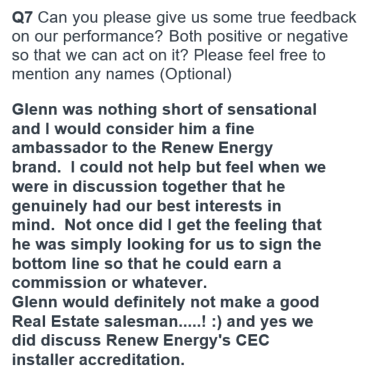 Got a quote and then 3 weeks later they were installed!
Lois R - Ashby