Lombard Interest Free* finance
It is an easy paperless application. You can apply online and get a decision within minutes:
1. Apply online. It's easy, quick and paperless
2. Receive a decision via SMS or email within minutes
3. Once approved, you'll receive 2 SMS notifications
4. The first SMS will contain important information about your Lombard account and have a 4 digit code to accept
5. The second SMS will confirm the sale amount and have a 4 digit code to validate your purchase
Please note: Your order will not be processed until 4 digit code acceptance is completed for your purchase.
As a Renew Energy customer, you will benefit from a minimum 5-year product and workmanship warranty as well as standard product warranty that ensures our quality is guaranteed. Customer satisfaction is our number one priority - so when you need us, we will be there.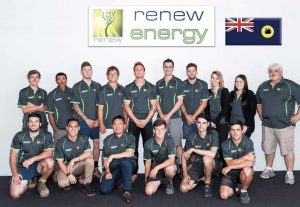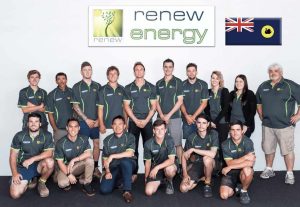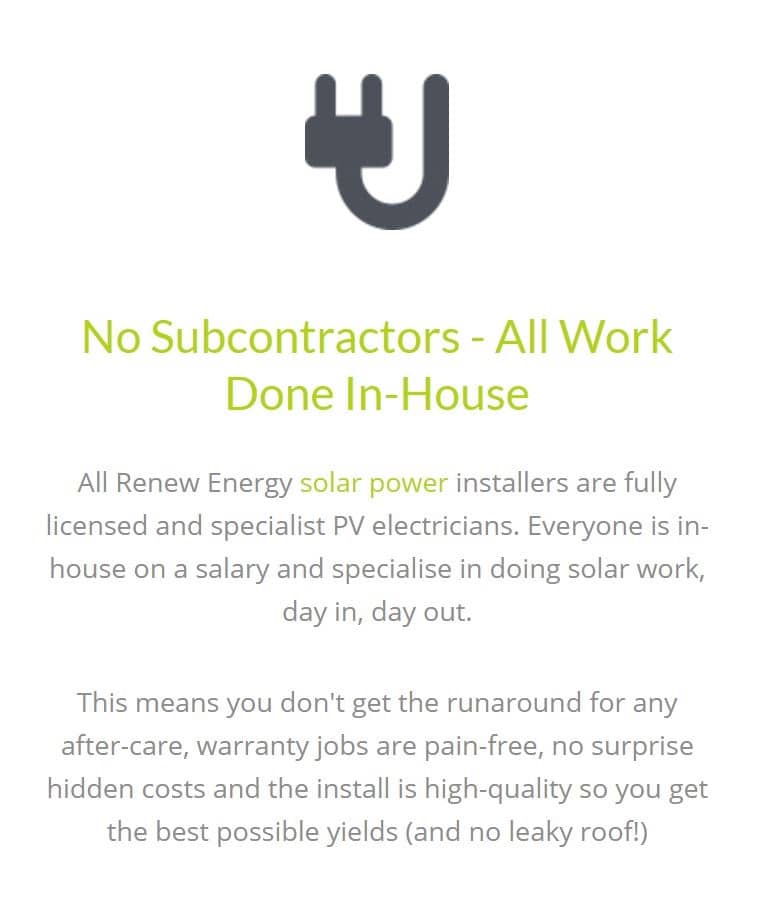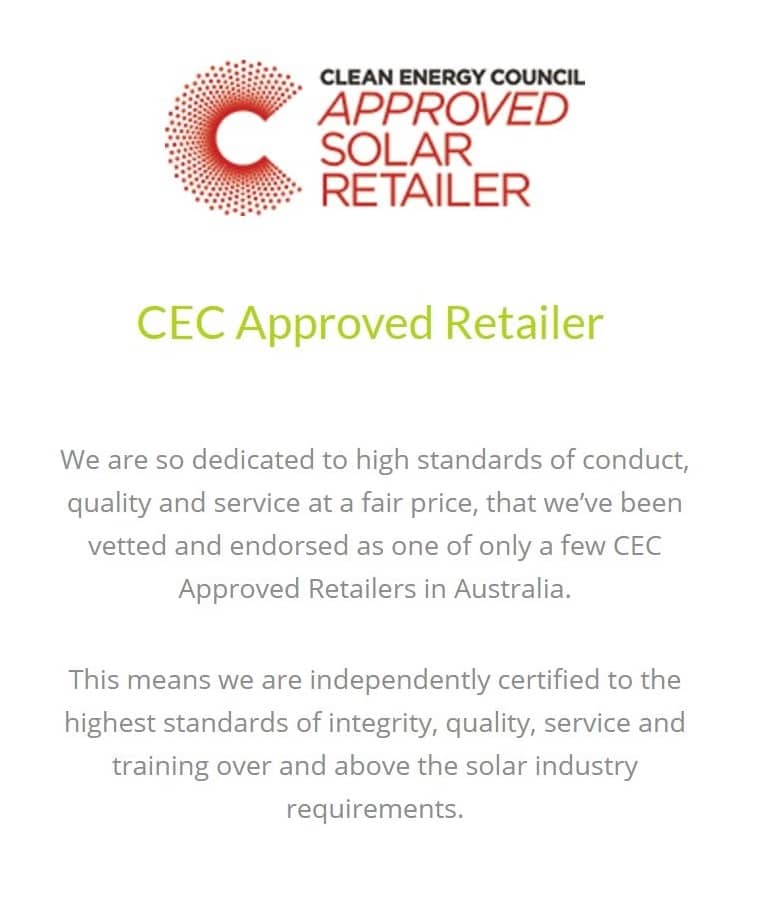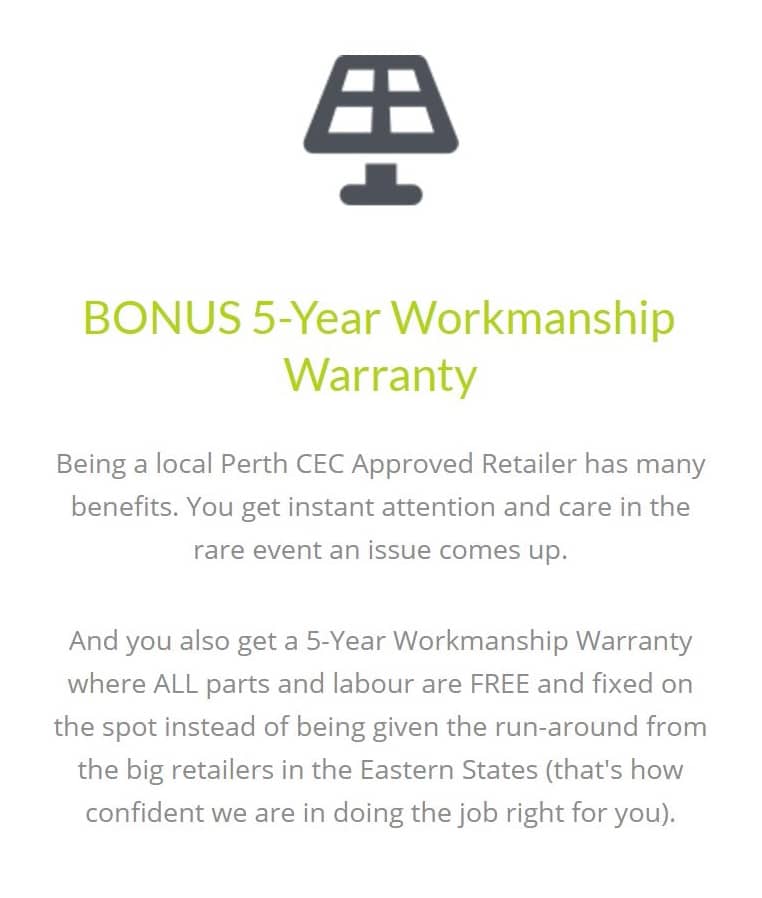 Happy Renew Energy Customers
I'm glad there are still companies like this out there. I put off my solar installation for 3 years because I could not find a company that I wanted to deal with.
Ben T - Floreat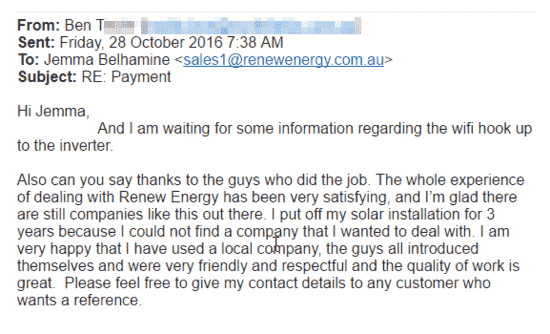 We had shopped around and actually made a commitment to another competitor, however...
Adrian and Sharon B - Hamersley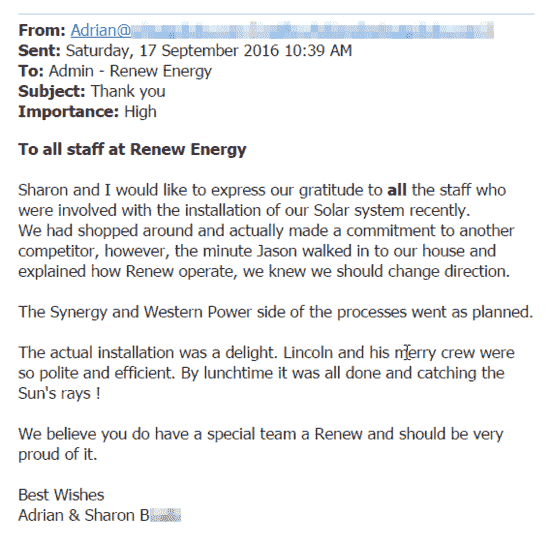 Really pleased with the support from Renew Energy and the speed the system was put in place.
Sue Q - Port Kennedy

We can highly recommend Glen, he was punctual, polite, easy to work with, knowledgable...
Helen & Ian K - Maida Vale
The guys did a wonderful job with the install.
Kathryn S - Chittering
I have no problems recommending you and the organisation, for your professionalism and an excellent after sales service.
Manny R - North Perth
It is clear you know your job well and unlike many 'sales-people' weren't pushy and provided me with all the facts I wanted and needed to know to make an educated decision.
Geoff H - Canning Vale
Very transparent... I don't know how many quotes I have received then they hit you with additional costs after the work is done.
Julie L - Palmyra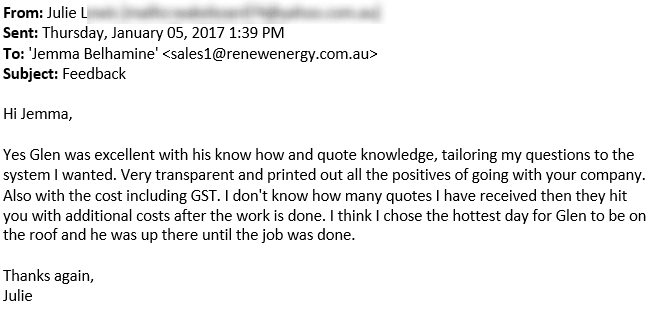 So I ended up with having 7 quotes done... But your company stood out by far!
Cheney C - Warwick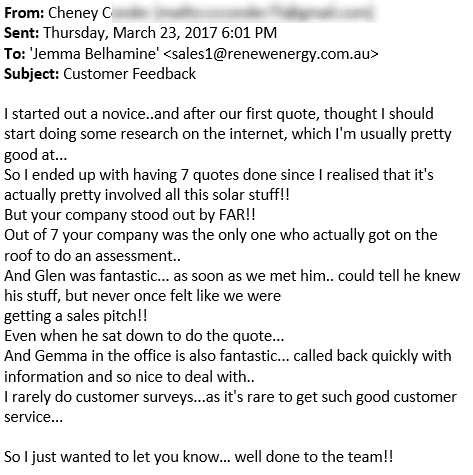 I would like to say how much it has been a pleasure dealing with you and Renew Energy.
Karen S - Munster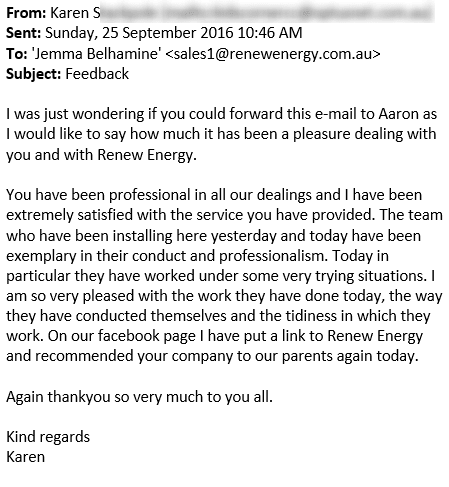 To have the system changed out within 5 hours of contacting your company is service I have never experienced before.
Bradley K - Waroona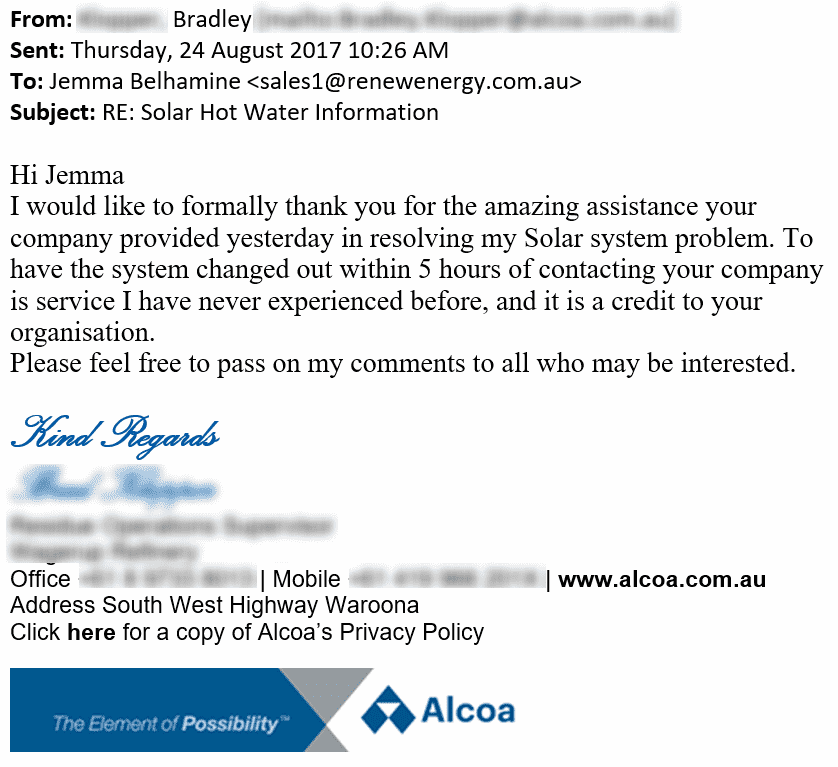 It is obvious they take pride in the work they do and go above and beyond to help the customer.
Wade O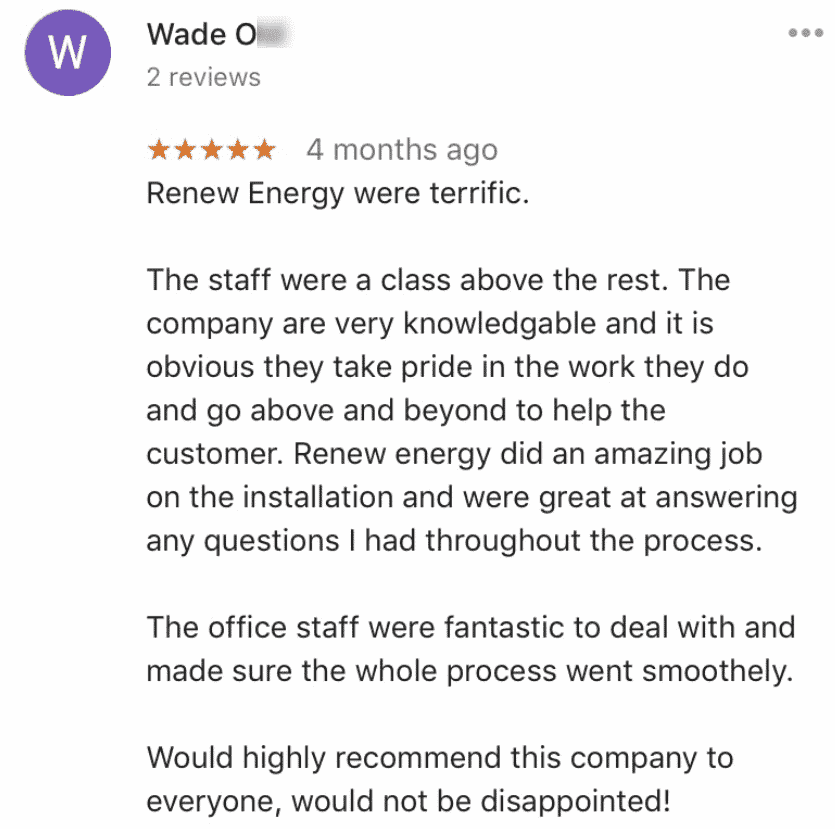 Yesterday we experienced the highest possible standard of professionalism and work ethic provided by the four man team of installers.
Greg & Susan - Alkimos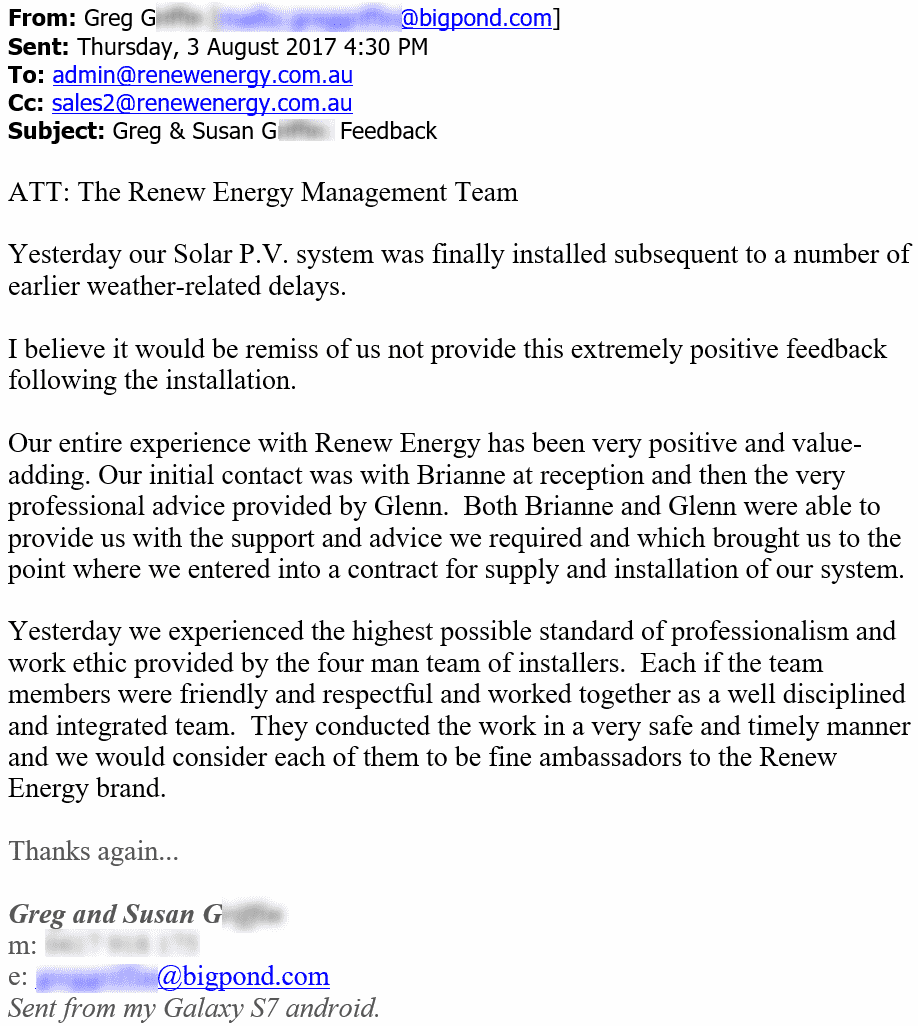 We are really happy with the install and the great customer experience from quote to hot water.
Michael L - Bullcreek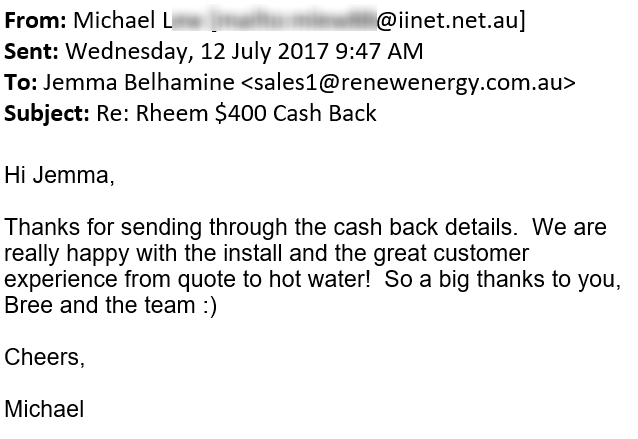 Thank you for all the professionalism you've shown throughout the process. I will continue to highly recommend your company to others.
Les M - Baldivis
Staff very knowledgable in solar hot water systems.
Inna G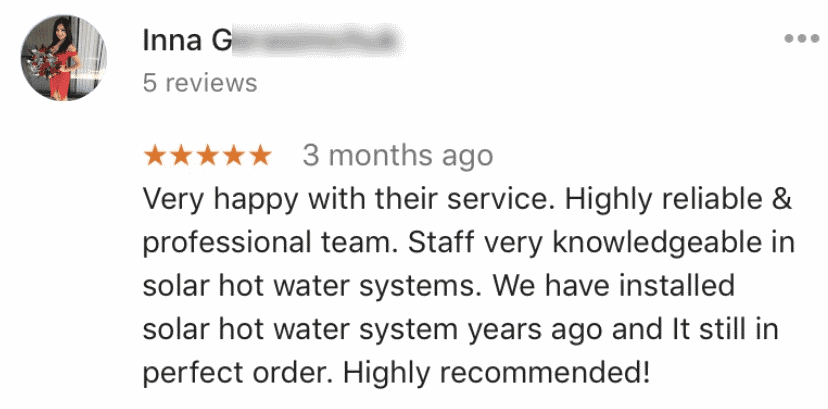 You left a very good impression and live up to the expectation of the great feedback from your clients.
Jim - Victoria Park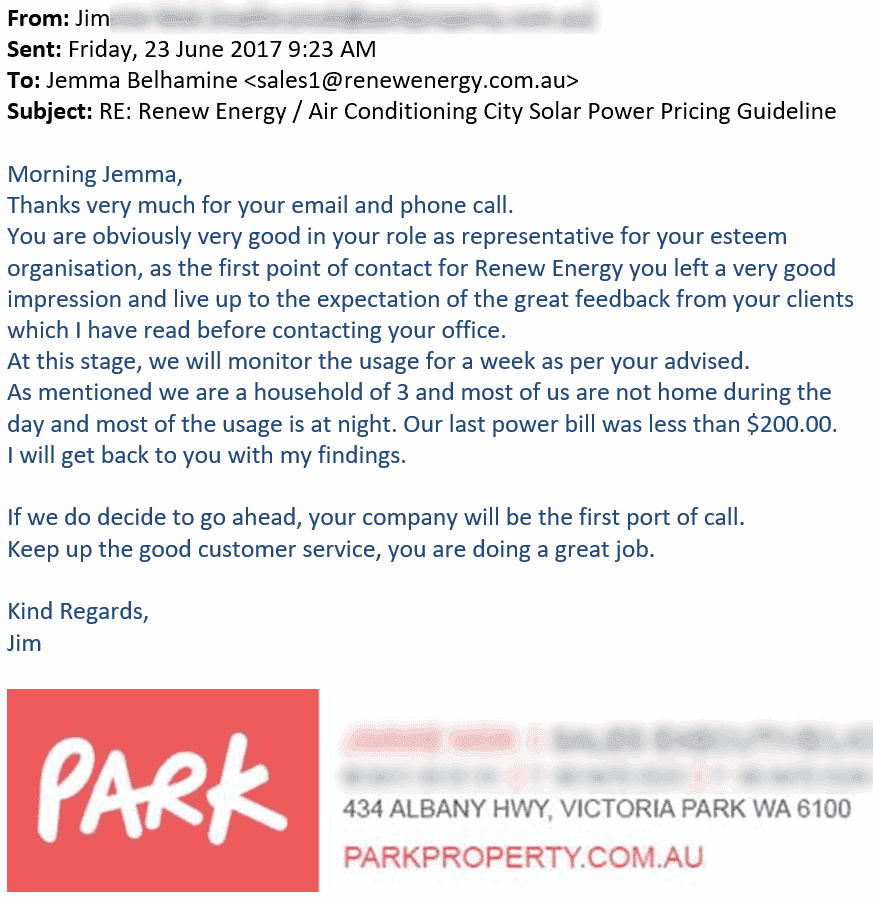 Renew will be at the top of my list when I can decide on the design of the PV system that best suits me.
J Poole - Mt Hawthorn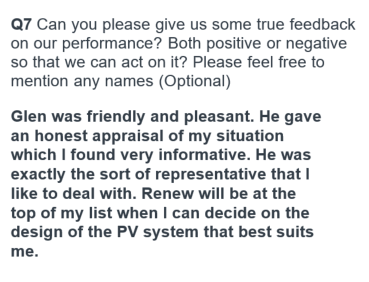 I got 6 quotes done and I did my research. These guys were way ahead of everyone.
Ravin P - Swan View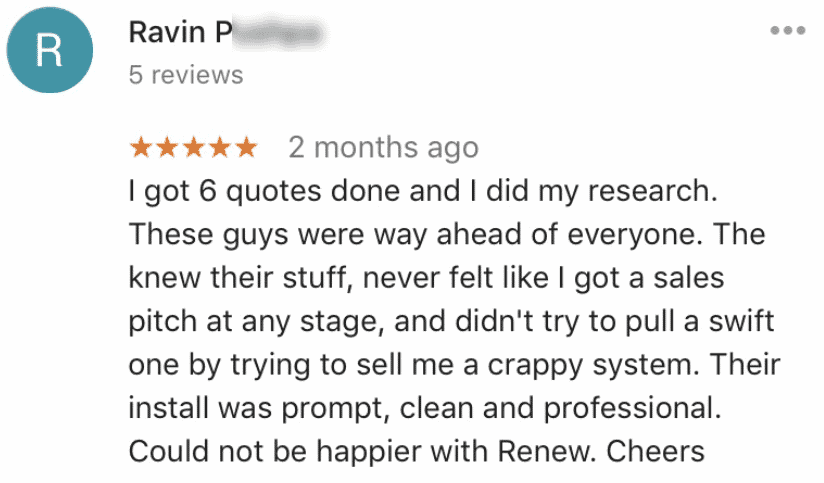 Thanks guys for very prompt service....
Helen T

Renew Energy came up (600+ return trip) within a fortnight of making the call and returned 10 days later to install.
Courtney M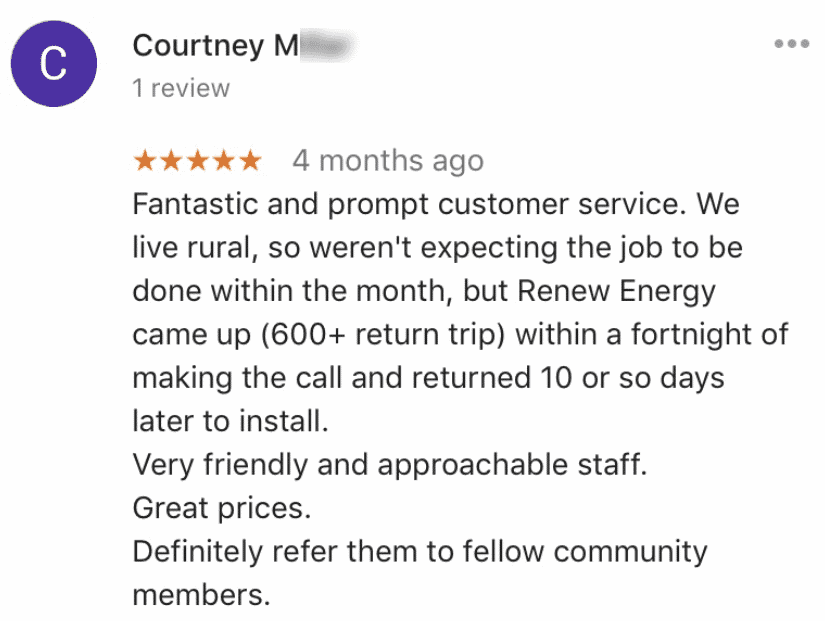 Glenn was nothing short of sensational and I would consider him a fine ambassador to the Renew Energy brand.
G Griffin - Alkimos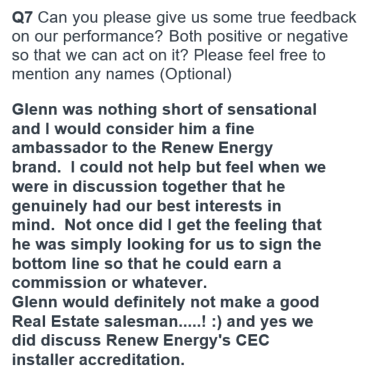 Got a quote and then 3 weeks later they were installed!
Lois R - Ashby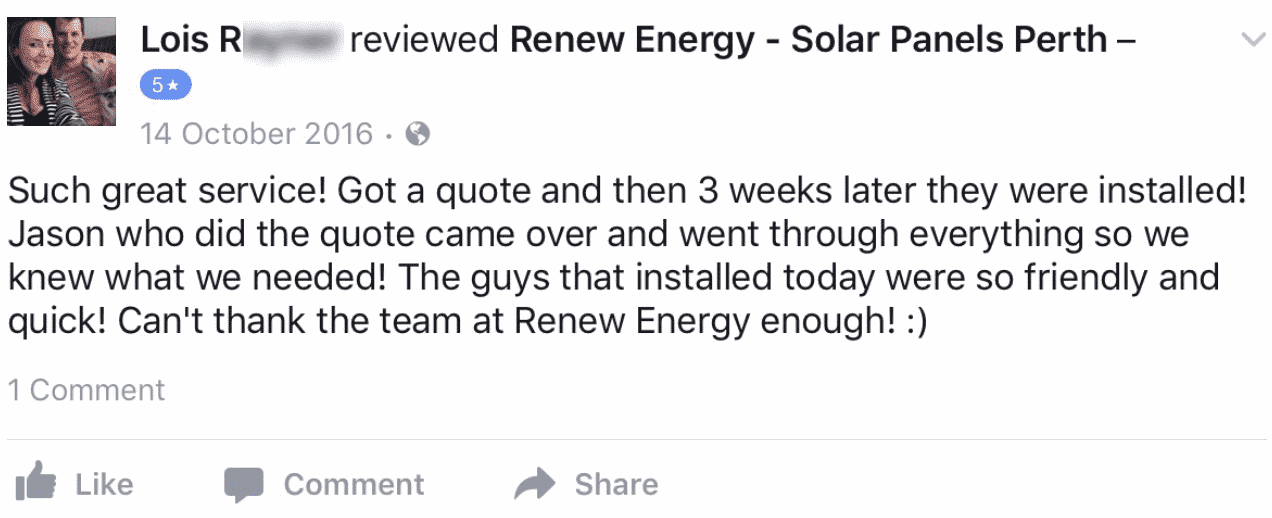 Terms and Conditions
*Credit approved applicants only; fees, terms and conditions apply including a $99 Annual Fee, charged on the account open date and annually on the anniversary of the account open date. Minimum finance amount applies. A minimum monthly repayment of the greater of $30 and 3% of the outstanding balance is required regardless of applicable Interest Free periods. Interest, currently 22.99% p.a., is payable on any balance outstanding after any Interest Free term. Ask in store for details. Credit provided by Lombard Finance Pty Ltd ABN 31 099 651 877, Australian Credit Licence number 247415 (Lombard). Lombard® is a trademark of Lombard. Lombard is a subsidiary of FlexiGroup Limited.