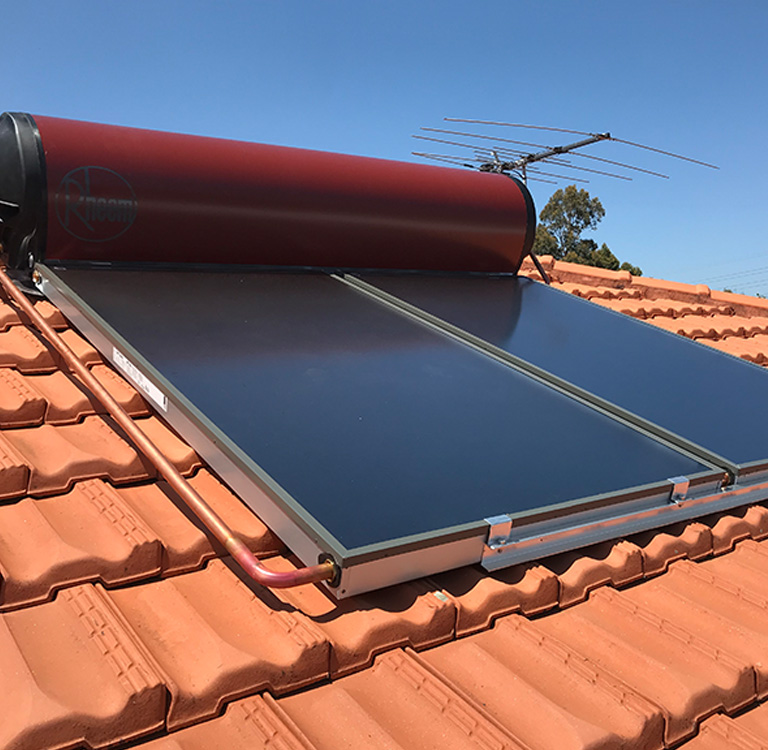 Solar Hot Water Systems Perth
Renew Energy is proud to provide solar hot water system installation and maintenance services for homeowners and business owners throughout Western Australia. We specifically tailor your hot water system to meet the requirements of your property, allowing you to select a solar hot water solution that fits your needs and your budget.
In WA, hot water usage equates to 27% of average energy usage, so installing a solar hot water system is a great way to reduce your energy bill and your carbon footprint.
Renew Energy is one of the few Rheem Solar Specialists in Perth. Rheem has an exceptional reputation in hot water systems, making them the trusted brand we work with.
Renew Energy supply two main types of solar hot water systems:
ROOF-MOUNTED Solar Systems
Also known as a Hiline System, the roof-mounted system has a storage tank that is mounted in a horizontal position immediately above the solar collectors on your roof, allowing hot water to rise into the tank naturally. This design is known as a passive heat exchange system or thermosiphon, which can reduce your annual operating costs.
Ground-mounted Solar Systems
Also known as a Loline, the ground-mounted system has a storage tank on the ground, with only the panels on your roof. While this system uses an electric pump for circulation to fill the storage tank, it is typically preferred in properties where greater flexibility for installation is required.
All our hot water systems can be retrofitted with electric or gas booster options and are built from enamel coated mild steel with corrosion protection – this ensures you get reliable hot water every day.
If you're thinking about switching to solar-heated hot water systems, Perth is the perfect place to do it. Perth gets around 3,000 hours of sunshine annually, meaning your solar-powered water heater keeps your water warm almost year-round.
When you need a boost on rainy or cloudy days, a gas or electric heater is a small added expense to keep your temperature right where you want it, since the bulk of your energy will come from solar power.
Solar Hot Water Systems Perth
Shopping for hot water systems in Perth can prove challenging. With so many companies, systems, and manufacturers to choose from, how do you know which option is right for you?
First, you should find a company that will be transparent about what you can expect from a solar hot water system. At Renew Energy, we make it clear what you get when you harness solar power and the capabilities of each system. We'll work with you to find the best solution for your hot water needs.
Solar Hot Water Systems vs. Gas and Electric
Using solar power instead of gas or electricity has many benefits. Once your system is up and running, your costs for electricity or gas will plummet. The only time you'll use alternate power is during periods when you can't getting enough sun to convert into heat energy.
Solar hot water systems allow you to put your hot water tank outside of your home, which can be an attractive option if you don't have much floor space. You'll be able to reclaim that cupboard or coat closet for its intended purpose. At the same time, your tank rests conveniently on the roof or the ground outside. 
Solar power is cheaper than electric, safer than gas, and a high-quality system can last for years. Besides the cost and convenience benefits, solar hot water systems reduce your environmental footprint. When you use a solar hot water system, you skip the greenhouse gases and help keep the environment cleaner. 
The Right Solar Hot Water System for Your Home or Business
Choosing the best solar hot water system for your Perth home or business means looking at all the factors. Ask yourself these questions:
Can you accommodate a fully roof-mounted system?

Do you need a flexible approach with a ground-mounted tank and roof-mounted panels?

How much hot water do you typically use?

Do you prefer a gas or electric booster? 

Would a heat pump work better for you?
The right solar hot water system will provide all of the hot water you need, incur minimal costs from gas or electric boosters, and fit in with your home's or business's aesthetic.
Solar Hot Water System Financing (ZipMoney)
If you're ready to commit to a new hot water system but don't quite have the cash you need for the installation, you can take advantage of ZipMoney. Renew Energy is a proud partner of ZipMoney and can offer qualifying applicants up to 36 months of interest-free financing.
The best system will supply you with enough hot water and minimize your costs while fitting in the space you have available. There is no one-size-fits-all when it comes to solar hot water systems.
We offer a free assessment to help determine what kind of system will live up to your needs and expectations.
A high-quality, professionally installed system can last anywhere from 10 to 20 years or more. Cheaper systems may not last as long, and they may have warranties that are almost impossible to enforce. Invest in a top-of-the-line system to get the most out of your purchase.
Roof-mounted systems, also known as thermosiphon systems, have roof-mounted solar panels with a tank mounted directly above the panels. This positioning allows heated water to rise into the tank, and gravity delivers it into your home.
Split systems, also known as ground systems, have the tank on the ground and only the solar panels on the north-facing roof. They require an electric pump to circulate the water through the heat transfer system.
Evacuated tube systems are made of solid reinforced glass to trap heat from sunlight. Their efficient round tubes capture more power than flat panels do throughout the day.
A thermosiphon system depends on heat energy from below to heat the water stored in the tank on your roof. A split system circulates water from a ground tank through pipes heated by solar energy and collected by roof panels. An evacuated tube system can directly transfer the heat to your water or indirectly transfer heat through a heat transfer liquid.
While the solar panels or tubes won't collect any energy after sunset, the residual heat of the water in your tank will let you use hot water for a while after the sun goes down. If you have a system with an electric or gas booster, you can get hot water at any time since the booster comes on if the water doesn't maintain a high enough temperature.
Even on cloudy days, there may be some radiant heat that the system can absorb and transfer to the water in your tank. If your area has a lot of cloudy days, a split system with a gas or electric booster can help your water temperature stay consistent.
Not all solar hot water systems in Perth have a booster, but most do. You don't want to jump in the shower or do a load of dishes if you don't have any hot water. We typically recommend a boost that fits your existing house setup when purchasing your system.
The cost of a new system can range from four to five figures, but don't make the price your sole deciding factor. Instead, consider functionality, capacity, and warranties as part of your decision-making process.
Buy based on quality, not on cost alone. Paying a little more for a reliable system from a well-known, reputable manufacturer can save you many hassles. If in doubt, speak to the experts at Renew Energy.