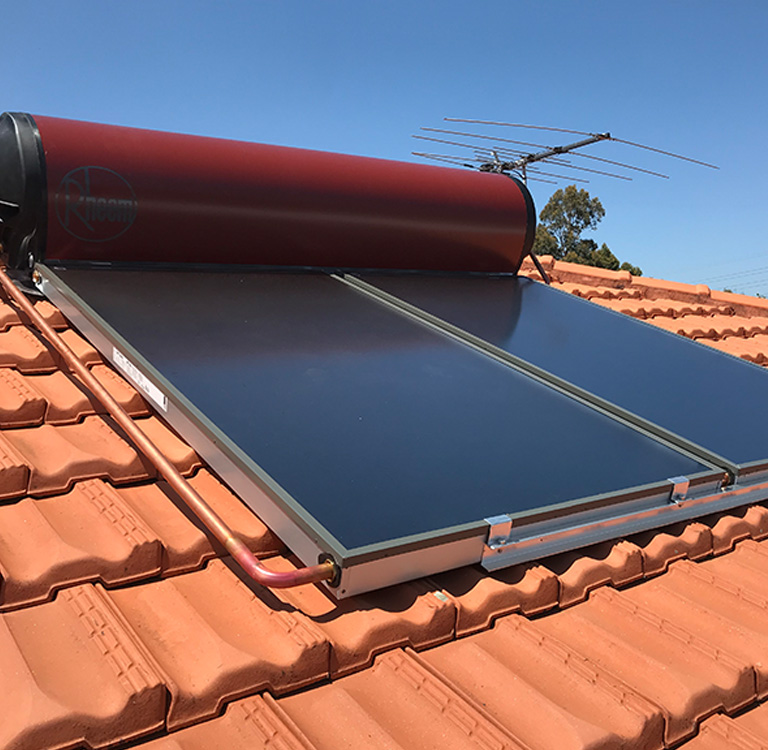 Solar Hot Water Systems
Renew Energy are proud to provide solar hot water system installation and maintenance services for homeowners and business owners throughout Western Australia. Our systems are tailored specifically to meet the requirements of your property, allowing you to select a solar hot water solution that fits your requirements and your budget. In WA, hot water usage equates to 27% of average energy usage, so installing a solar hot water system is a great way to reduce your energy bill, and your carbon footprint.
Renew Energy is one of the few Rheem Solar Specialists in Perth. Rheem have an exceptional reputation in solar hot water systems with products in the form of Solahart and Rheem, making them the trusted brand we work with.
Renew Energy supply two main types of solar hot water systems:
ROOF-MOUNTED
Also known as a Hiline System , the roof-mounted system has a storage tank that is mounted in a horizontal position immediately above the solar collectors on your roof, allowing hot water to naturally rise into the tank. This design is known as a passive heat exchange system or thermosiphon, which can reduce your annual operating costs.
Ground-mounted
Also known as a Loline, the ground-mounted system has a storage tank on the ground, with only the panels on your roof. While this system uses an electric pump for circulation to fill the storage tank, it is typically preferred in properties where greater flexibility for installation is required.
All our solar hot water systems can be retrofitted with electric or gas booster options, and are built from enamel coated mild steel with corrosion protection – this ensure you get reliable hot water every day.