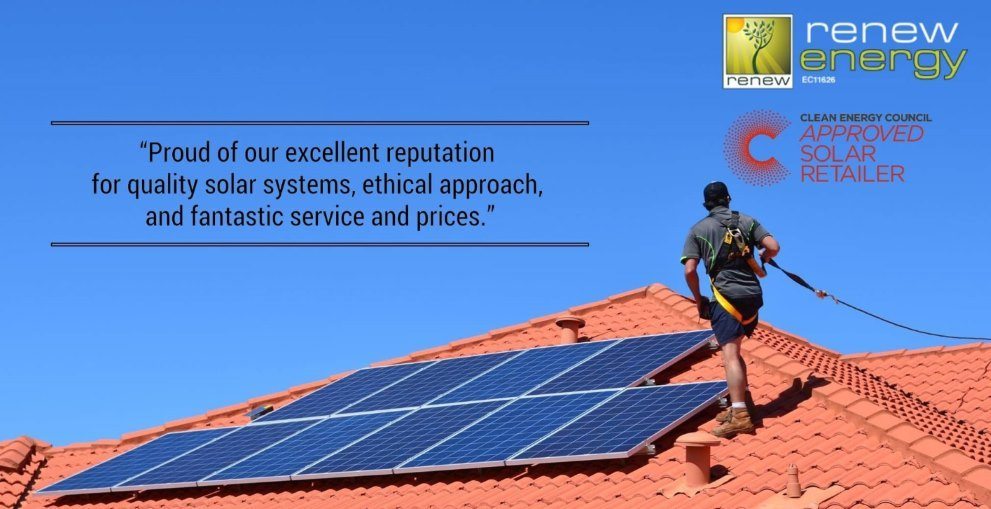 SOLAR PANELS & INVERTERS

PERTH
Photovoltaic (PV) solar power systems do not produce greenhouse gases when generating electricity. By having grid-connected solar power, you can sell excess electricity back to Synergy. We will design the optimum system to give you the maximum return on investment. They are now made affordable by government incentives. Depending on your usual energy usage, you can get a return on your investment within a few years.
Australia is one of the best places to take advantage of solar power, particularly Perth, which gets the second highest amount of sun than any other capital city in the world.
We do solar photovoltaic systems for both domestic solar power for your home and also commercial solar power on commercial buildings.
Solar electric power systems include solar panels connected to an inverter (which converts DC electricity to household AC) that will power your home and appliances and feed excess electricity back into the grid. Some households can also get a battery installed to store excess energy for use at night.
WHY CHOOSE

RENEW ENERGY

 AS YOUR SOLAR INSTALLER?
We are committed to providing great quality solar systems at affordable prices, with exceptional after-care service. We're one of the best and most respected solar companies in WA, providing the support Perth home-owners need to decrease the energy usage of their home. We offer free solar quotes, there is no obligation at all, and whilst we want to win your business, integrity is important to us, and we'll always recommend the best options that suit you.
1. We have in-house electricians
We manage the scope of work and the installers. For your convenience and peace of mind, you deal with us and only us.
2. We have a shop front
You are more than welcome to come and visit us in-store, have a look around and get educated on anything you need to know about solar power, solar hot water and air conditioning. Drop into our showroom at 2/136 Bannister Rd, Canning Vale WA 6155.
3. We offer a full 5-year workmanship warranty
For every system we provide, we back the work of our installation experts with a full 5 year workmanship warranty. We pride ourselves in having the best staff with the best training and we guarantee our standard of work.
4. We are a CEC Approved Retailer and Installer
We have signed onto this code of conduct to try and protect our industry. Our industry is a mess and we want to assist in cleaning it up by upholding the best possible standards.
5. We sell and install Tier One panels
We use and recommend quality solar brands at excellent and affordable prices. We'll provide you with clear choices and our honest approach gives you the best advice. We can provide high-efficiency 5kw solar panel systems, helping you make the best use of Perth's abundant sunlight.
6. We take pride in our work
We have invested a lot of time and money in the training of our beloved staff. Since we are heavily invested in the industry we will not complete a job if we wouldn't be happy with it ourselves. In many cases we actually get on the roof and measure when we come out for a quote.
7. We are not your typical retail company
We don't sell insulation one season, window glazing the next, and then some floor boards when we get quiet. Solar Power, Solar Hot Water and Air Conditioning is what we do and we are proud of it.
8. We do not use high-pressure sales
We uphold the highest standards in conduct, sales and marketing. We don't try to sell you systems that are too big for your power usage, use sub-standard panels, or tell you government subsidies are disappearing tomorrow when they're not. In fact, we will advise you to please call the CEC or our office if you found that we were not ethical, spun you a web, or used any form of high pressure sales. It's extremely important to us that we provide the best solutions to our clients' needs.
9. Renew Energy is striving to clean up the industry
We take a lot of pride in our work, our conduct, attention to detail and our company as a whole. We would appreciate the opportunity to come out and put our best foot forward. Contact us for a quote and see how we're different.
HAPPY

RENEW ENERGY

CUSTOMERS
I'm glad there are still companies like this out there. I put off my solar installation for 3 years because I could not find a company that I wanted to deal with.
Ben T - Floreat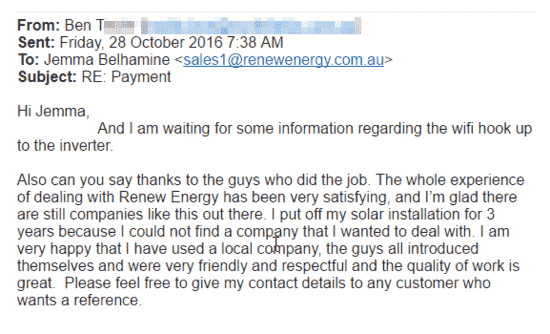 We had shopped around and actually made a commitment to another competitor, however...
Adrian and Sharon B - Hamersley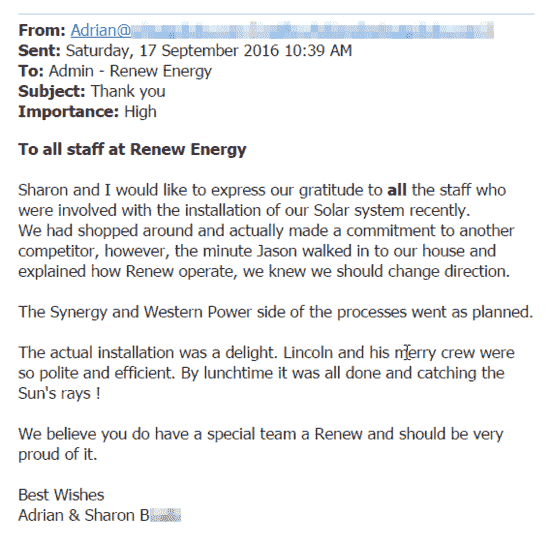 Really pleased with the support from Renew Energy and the speed the system was put in place.
Sue Q - Port Kennedy

We can highly recommend Glen, he was punctual, polite, easy to work with, knowledgable...
Helen & Ian K - Maida Vale
The guys did a wonderful job with the install.
Kathryn S - Chittering
I have no problems recommending you and the organisation, for your professionalism and an excellent after sales service.
Manny R - North Perth
It is clear you know your job well and unlike many 'sales-people' weren't pushy and provided me with all the facts I wanted and needed to know to make an educated decision.
Geoff H - Canning Vale
Very transparent... I don't know how many quotes I have received then they hit you with additional costs after the work is done.
Julie L - Palmyra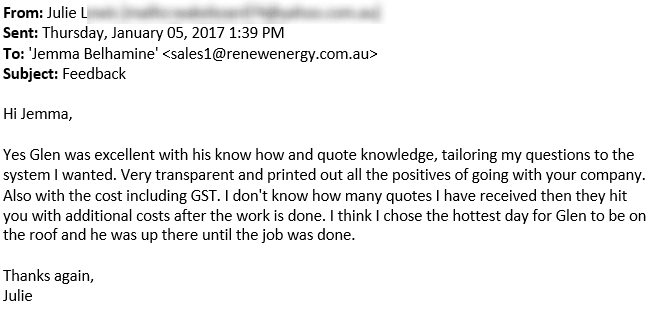 So I ended up with having 7 quotes done... But your company stood out by far!
Cheney C - Warwick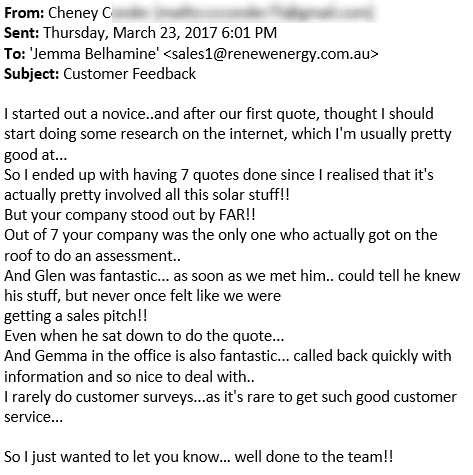 I would like to say how much it has been a pleasure dealing with you and Renew Energy.
Karen S - Munster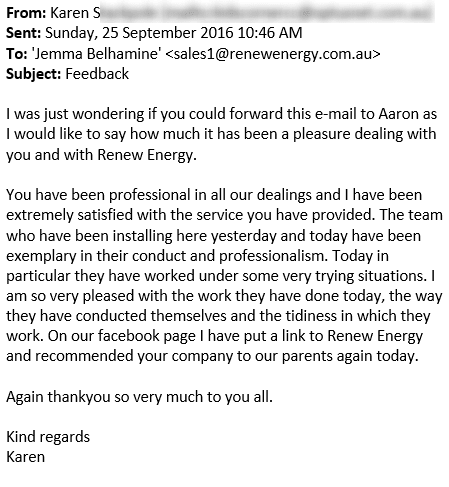 To have the system changed out within 5 hours of contacting your company is service I have never experienced before.
Bradley K - Waroona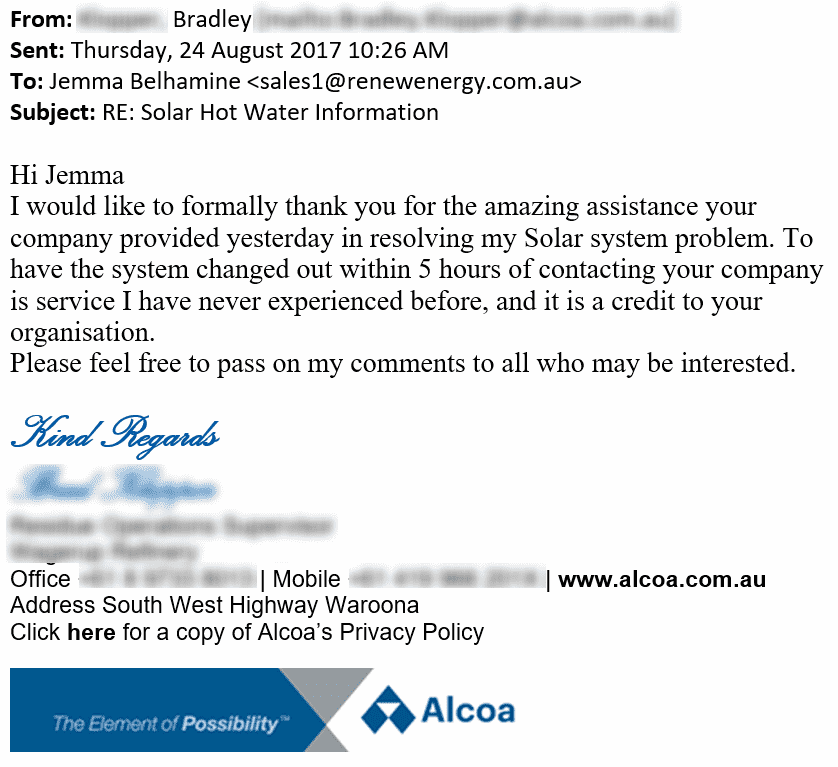 It is obvious they take pride in the work they do and go above and beyond to help the customer.
Wade O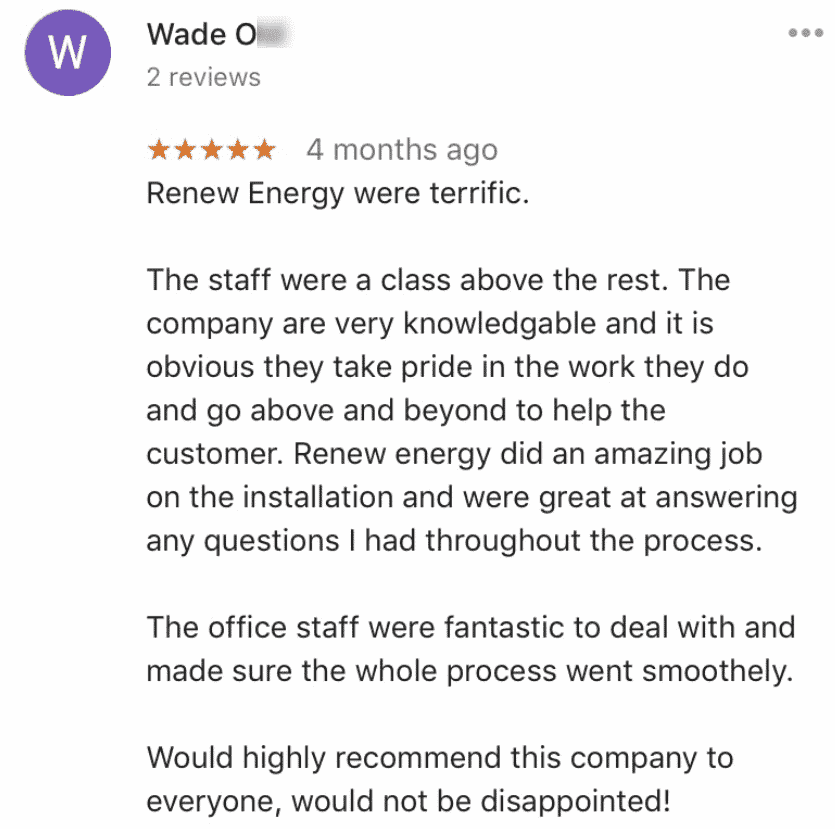 Yesterday we experienced the highest possible standard of professionalism and work ethic provided by the four man team of installers.
Greg & Susan - Alkimos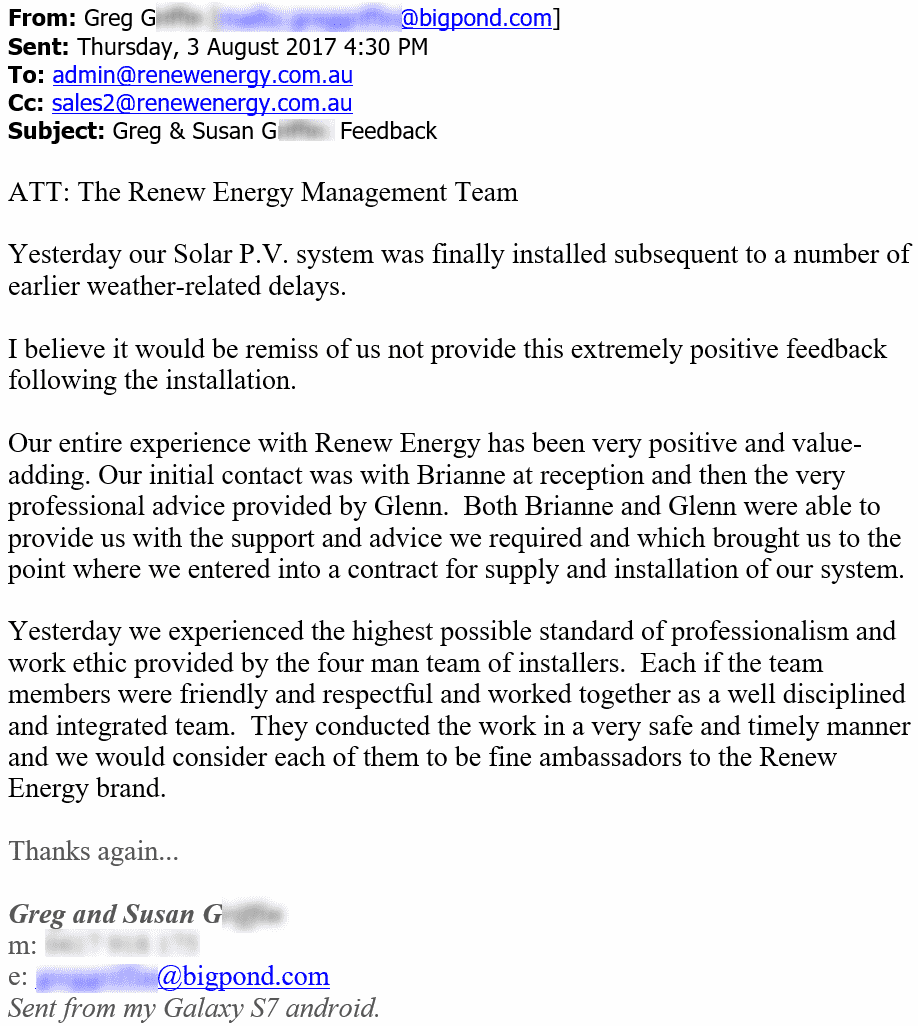 We are really happy with the install and the great customer experience from quote to hot water.
Michael L - Bullcreek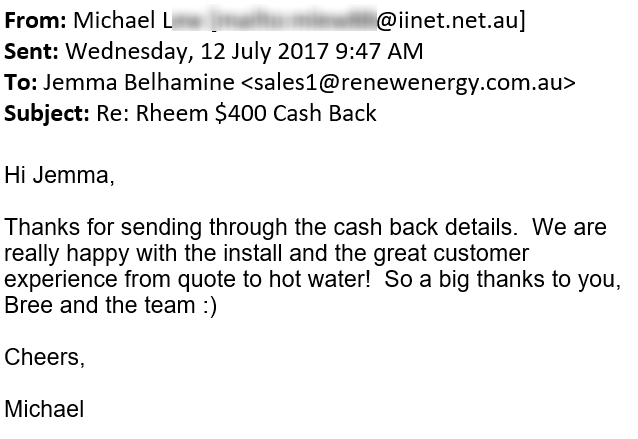 Thank you for all the professionalism you've shown throughout the process. I will continue to highly recommend your company to others.
Les M - Baldivis
Staff very knowledgable in solar hot water systems.
Inna G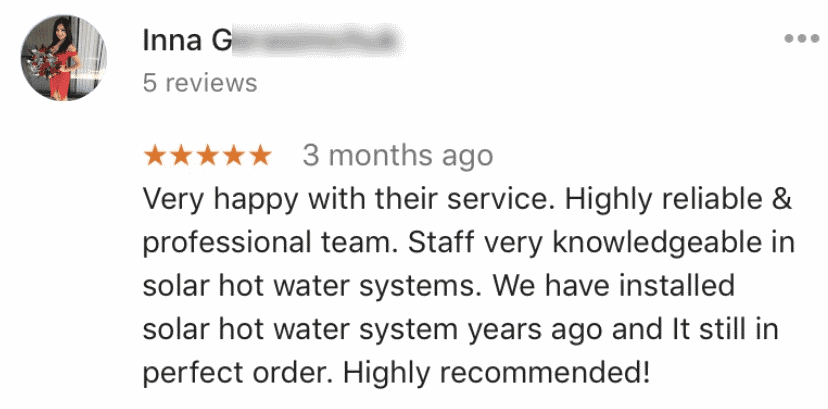 You left a very good impression and live up to the expectation of the great feedback from your clients.
Jim - Victoria Park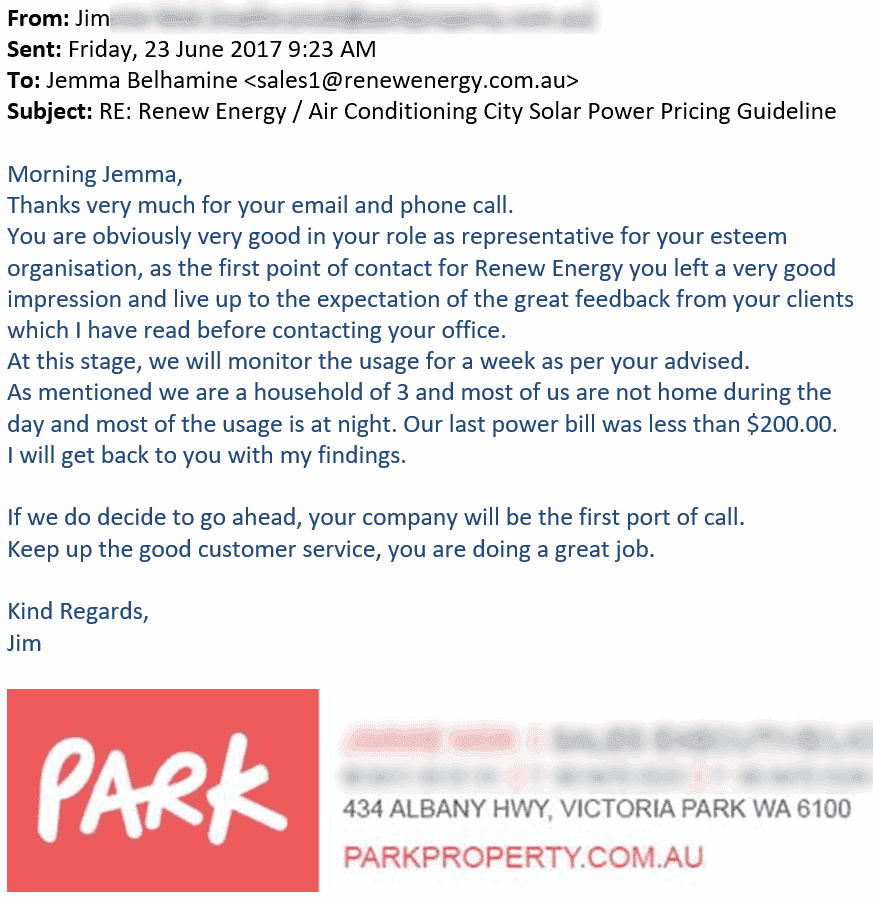 Renew will be at the top of my list when I can decide on the design of the PV system that best suits me.
J Poole - Mt Hawthorn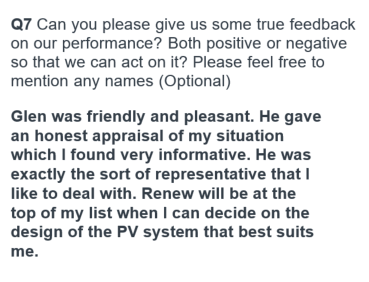 I got 6 quotes done and I did my research. These guys were way ahead of everyone.
Ravin P - Swan View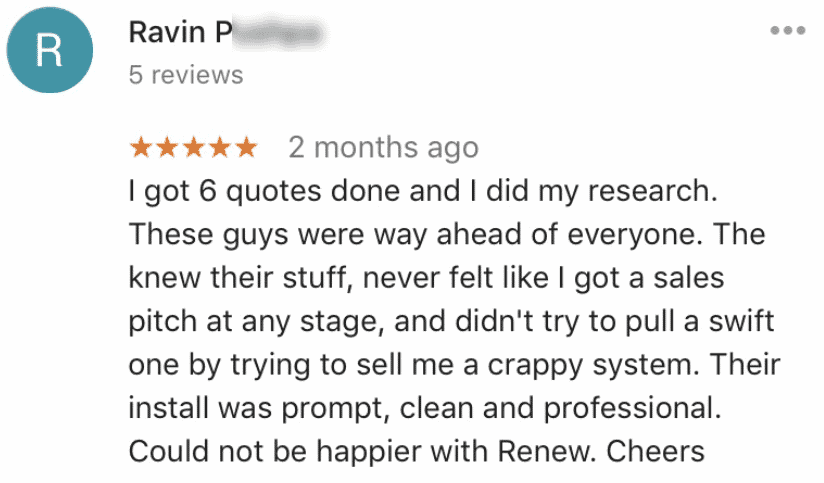 Thanks guys for very prompt service....
Helen T

Renew Energy came up (600+ return trip) within a fortnight of making the call and returned 10 days later to install.
Courtney M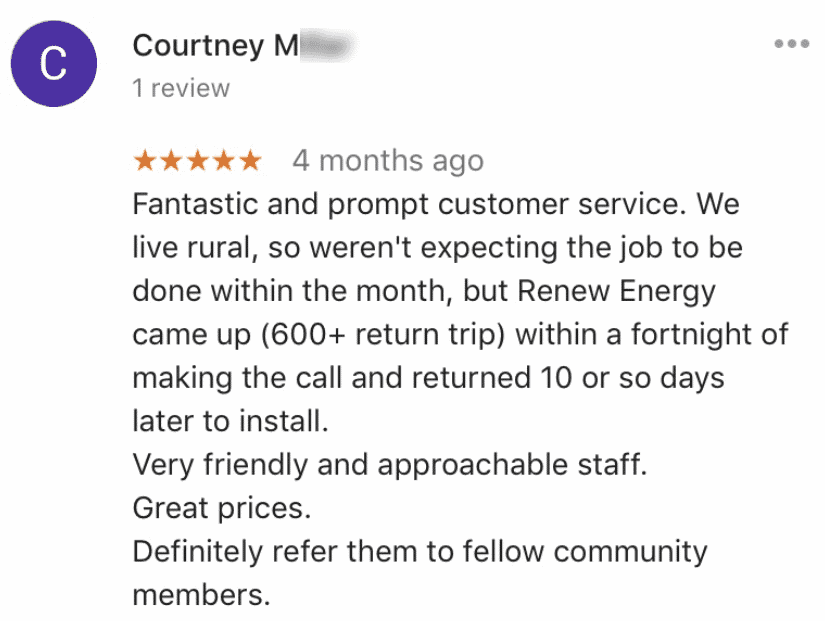 Glenn was nothing short of sensational and I would consider him a fine ambassador to the Renew Energy brand.
G Griffin - Alkimos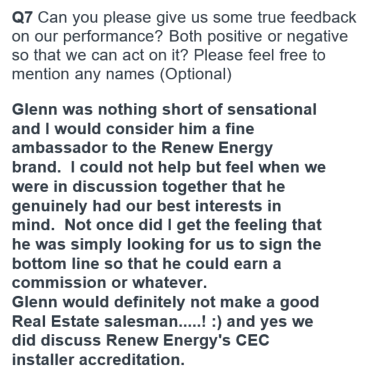 Got a quote and then 3 weeks later they were installed!
Lois R - Ashby