Renew Energy | Solar Panels Perth – Solar System Prices Perth
Solar System Prices Perth
Welcome to the Renew Energy | Solar System Prices Perth website. We are a locally owned family business established in 2002. We specialise in the design, supply and installation of quality Solar Systems in Perth, Western Australia, primarily focusing north as far as Alkimos, out to Northam to the East and South as far as Mandurah.
When it comes time to get a solar system price to accommodate your ever-increasing utility bills, there are several things you should consider. More often than not the cheapest isn't the best, in fact, the cheapest could easily cost you more in the long run.
Where is the inverter made? Does place of manufacture effect my solar system price?
While European inverters, such as the Fronius and SMA, are inverters everyone asks for we would suggest to compare them with Chinese made inverters. Chinese manufacture does not necessarily mean cheaply made it is simply an alternate place of production.
If you think about it, compare it to buying a television. With a quick look at JB HiFi's website, they stock nine different television brands - Samsung (China), Soniq (China), LG (China), Sony (China), Hisense (China), Palsonic, Hitachi (Japan) and TEAC (Japan).
Did you notice none of them are made in Europe?
Think about your other home appliances as well, even consider your mobile phone. The best part of these are made in China. China continues to lead the world as far as technology goes.
We are not suggesting for a moment though that European manufacture is of lesser quality or standards, merely highlighting the obvious which many overlook. We have European and Chinese made inverters in our stable of recommendations and suggested inverters.
What warranty does the inverter have, how does this effect my solar system pricing?
While many of the inverters on today's market have a five-year warranty, the Fronius comes with a 5+5 year warranty. To get the additional five years, you will need to register your inverter with Fronius direct. Solar retailers and installers commonly mislead consumers by selling the solar power system as coming with a ten-year warranty.
Can I add batteries to my solar system in the future?
At Renew Energy | Solar Panels Perth we suggest that the cost to install batteries in today's market is not viable as most inverters can be adapted to add batteries in the future. This is the way we tend to suggest as we believe in the future the government may offer subsidies to install batteries to lessen the stress on their network as this is already evident over east. The problem with installing a Hybrid inverter today, besides from the extra expense, is that if the Clean Energy Councils approved inverter list changes. In the future, and this happens quite regularly, the inverter you have installed does not appear on the updated list you will more than likely have to forfeit any subsidies or upgrade your current system to the required standards to be eligible to claim them.
In addition to your solar inverter, the brains of your solar system, you will also need to look into your options for solar panels.
There are so many solar panels to choose from that it is pointless to try and name them all.
For starters, we will not recommend anything that isn't manufactured by a tier one manufacturer. It is imperative that you understand this. TIER ONE PANELS DO NOT EXIST. Bloomberg rates the solar panel manufacturer and not the individual solar panels themselves. Bloomberg state on their reports to look at each solar modules specifications independently to determine the effectiveness of the solar panels.
The reason that we would recommend a tier one manufacturer is purely from the companies financial stability and bankability.
Renew Energy | Solar Panels Perth values its customer service and quality installations. We strive to ensure 100% customer satisfaction and feel if you took 10 minutes to go through some of our testimonials, Google ratings and Facebook reviews you will see why we are a highly regarded solar retailer of choice
• No Pushy Sales, Clear, Honest, Obligation-Free Solar Consultations
• In-House Electricians
• CEC Approved Retailer
• Excellent Service & Aftercare
• We Have a Real Shopfront
• 5-year Workmanship Warranty
Just some of the brands we stock...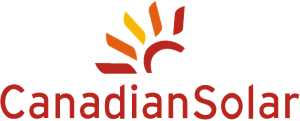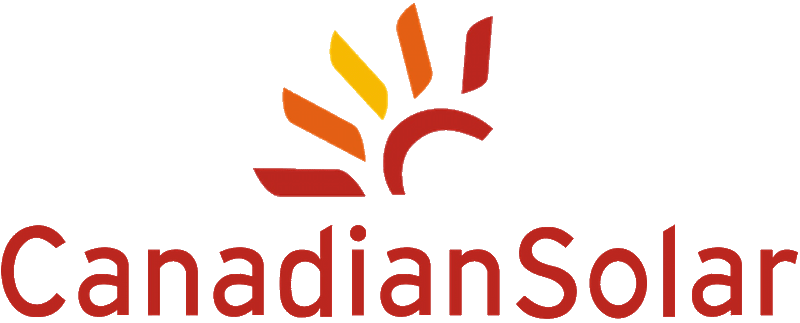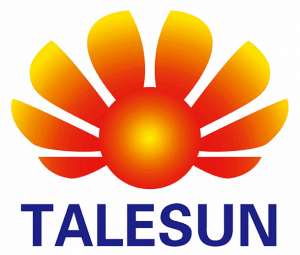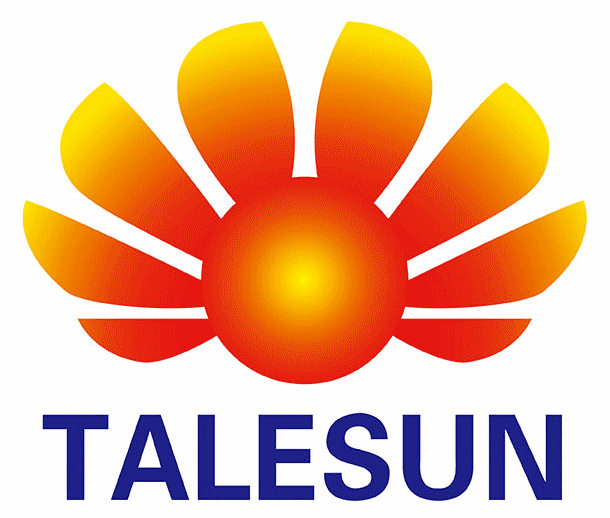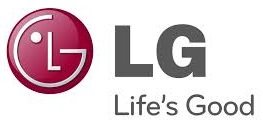 As a Renew Energy customer, you will benefit from a minimum 5-year product and workmanship warranty as well as standard product warranty that ensures our quality is guaranteed. Customer satisfaction is our number one priority - so when you need us, we will be there.

Qualified Electrical Contractor EC011626
All Renew Energy solar power installers are fully licensed and specialist PV electricians. Everyone is in-house on a salary and specialise in doing solar work, day in, day out.
This means you don't get the runaround for any after-care, warranty jobs are pain-free, no surprise hidden costs and the install is high-quality so you get the best possible yields (and no leaky roof!)
Clean Energy Council (CEC) Approved Retailer

We are so dedicated to high standards of conduct, quality and service at a fair price, that we've been vetted and endorsed as one of only a few CEC Approved Retailers in Australia.
This means we are independently certified to the highest standards of integrity, quality, service and training over and above the solar industry requirements.

5-Year Workmanship Warranty on everything we touch
Being a local Perth CEC Approved Retailer has many benefits. You get instant attention and care in the rare event an issue comes up.
And you also get a 5-Year Workmanship Warranty where ALL parts and labour are FREE and fixed on the spot instead of being given the run-around from the big retailers in the Eastern States (that's how confident we are in doing the job right for you).
Happy Renew Energy Customers
I'm glad there are still companies like this out there. I put off my solar installation for 3 years because I could not find a company that I wanted to deal with.
Ben T - Floreat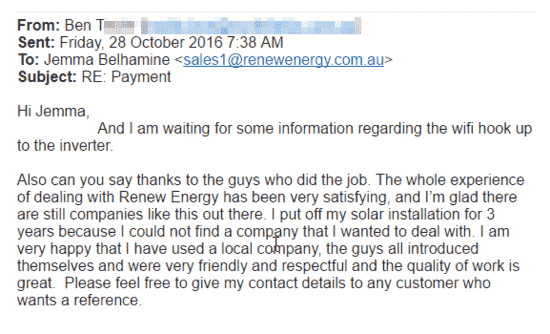 We had shopped around and actually made a commitment to another competitor, however...
Adrian and Sharon B - Hamersley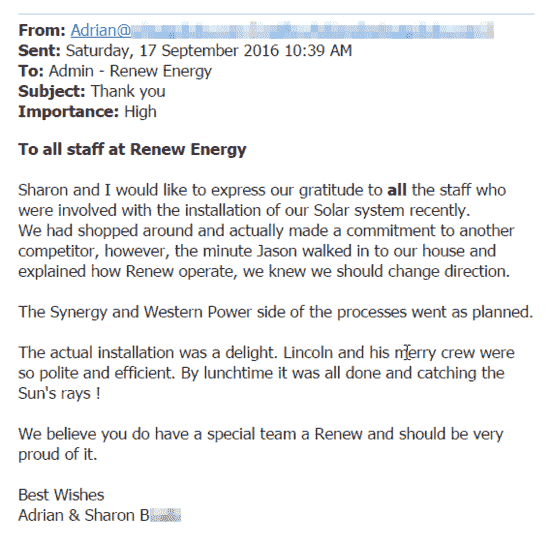 Really pleased with the support from Renew Energy and the speed the system was put in place.
Sue Q - Port Kennedy

We can highly recommend Glen, he was punctual, polite, easy to work with, knowledgable...
Helen & Ian K - Maida Vale
The guys did a wonderful job with the install.
Kathryn S - Chittering
I have no problems recommending you and the organisation, for your professionalism and an excellent after sales service.
Manny R - North Perth
It is clear you know your job well and unlike many 'sales-people' weren't pushy and provided me with all the facts I wanted and needed to know to make an educated decision.
Geoff H - Canning Vale
Very transparent... I don't know how many quotes I have received then they hit you with additional costs after the work is done.
Julie L - Palmyra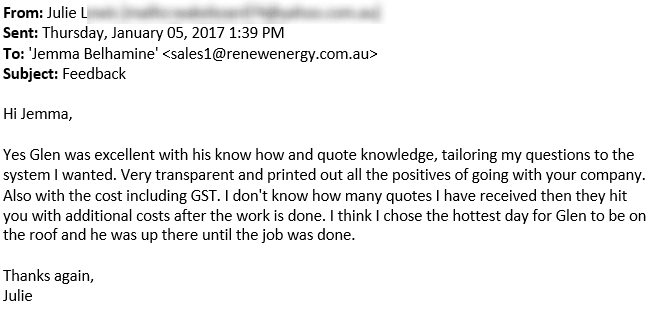 So I ended up with having 7 quotes done... But your company stood out by far!
Cheney C - Warwick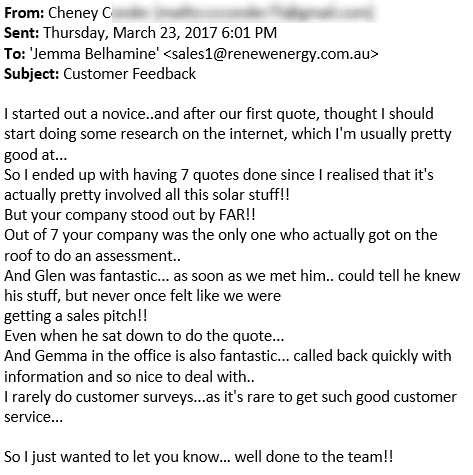 I would like to say how much it has been a pleasure dealing with you and Renew Energy.
Karen S - Munster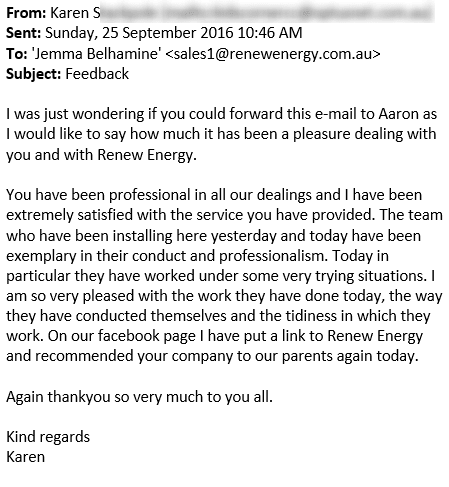 To have the system changed out within 5 hours of contacting your company is service I have never experienced before.
Bradley K - Waroona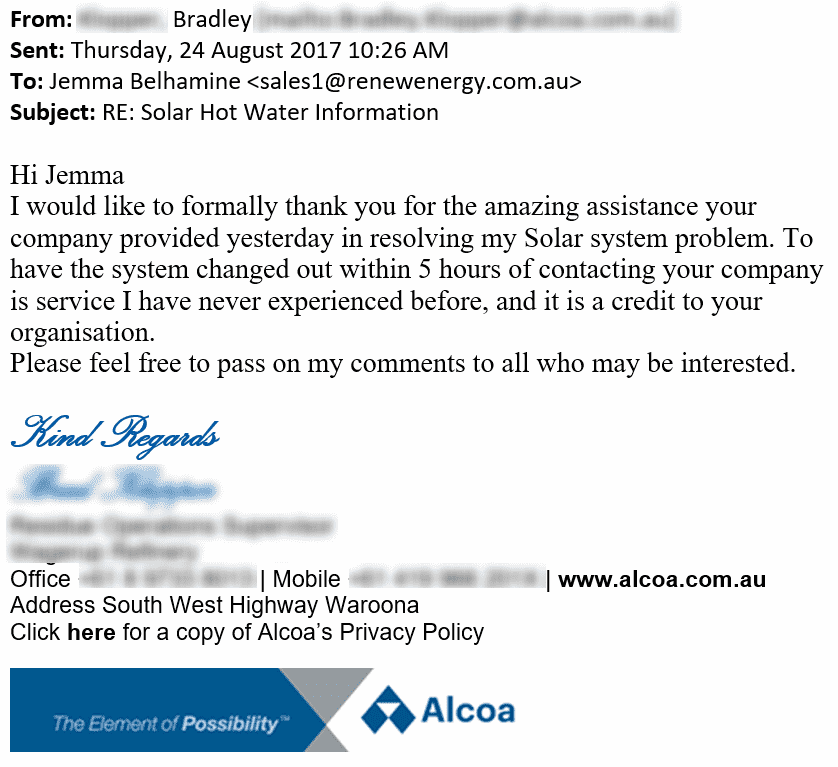 It is obvious they take pride in the work they do and go above and beyond to help the customer.
Wade O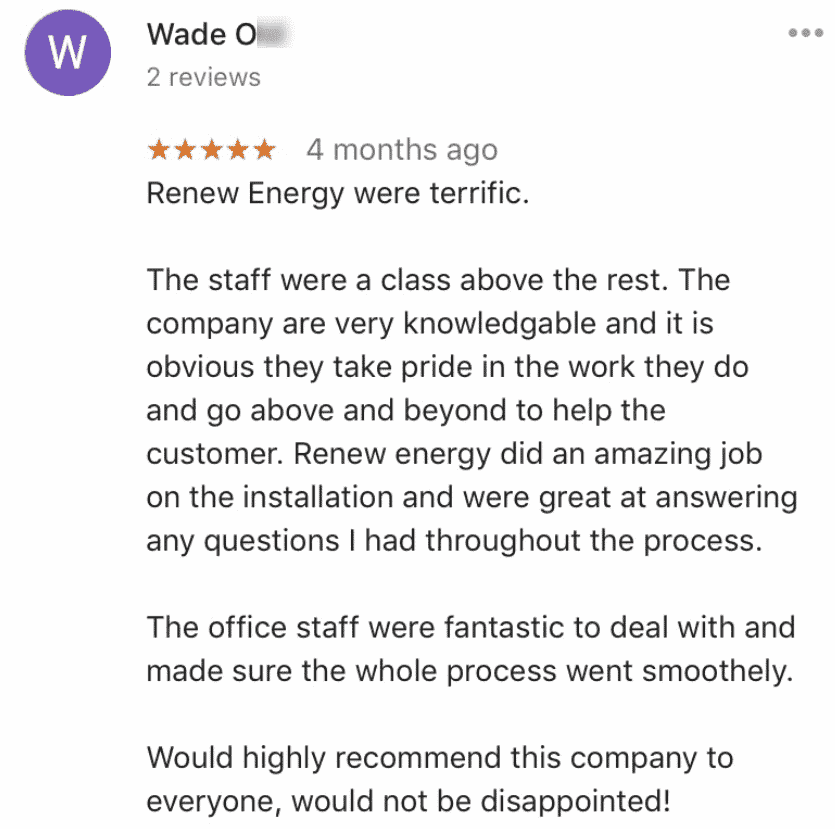 Yesterday we experienced the highest possible standard of professionalism and work ethic provided by the four man team of installers.
Greg & Susan - Alkimos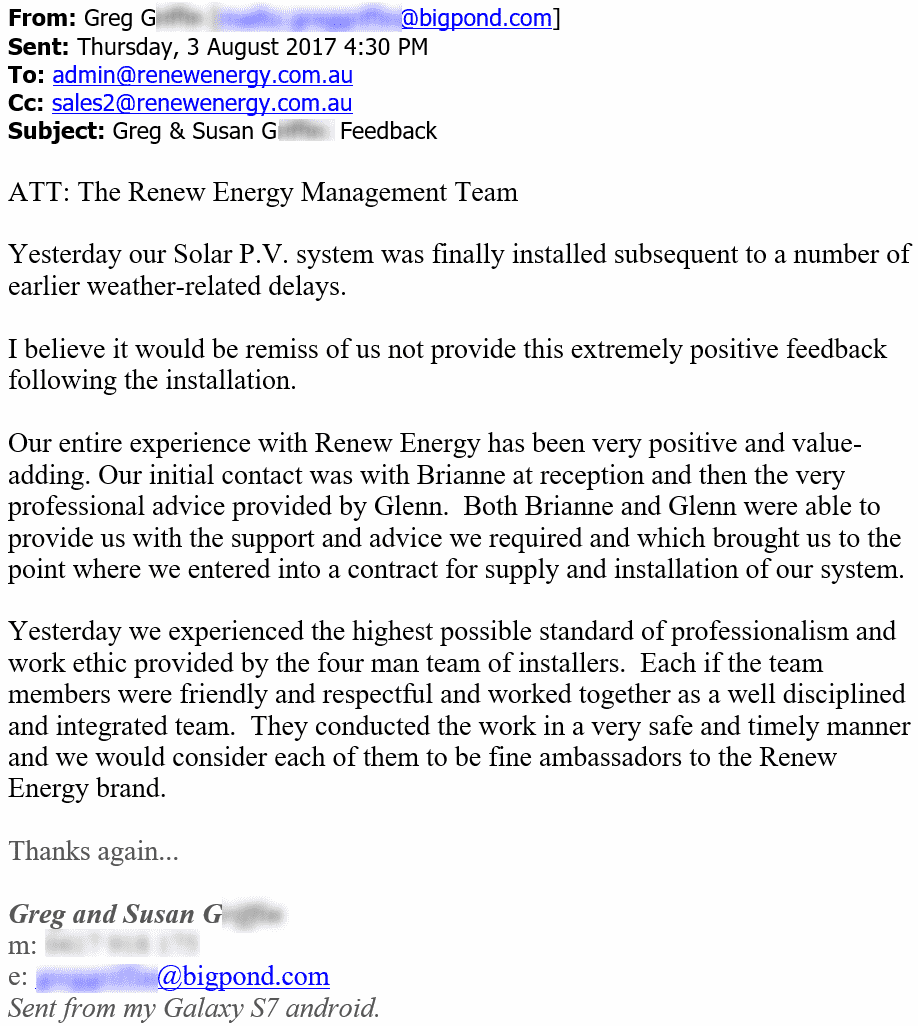 We are really happy with the install and the great customer experience from quote to hot water.
Michael L - Bullcreek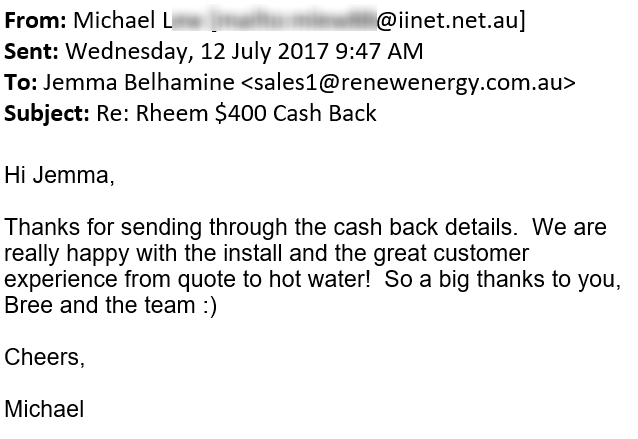 Thank you for all the professionalism you've shown throughout the process. I will continue to highly recommend your company to others.
Les M - Baldivis
Staff very knowledgable in solar hot water systems.
Inna G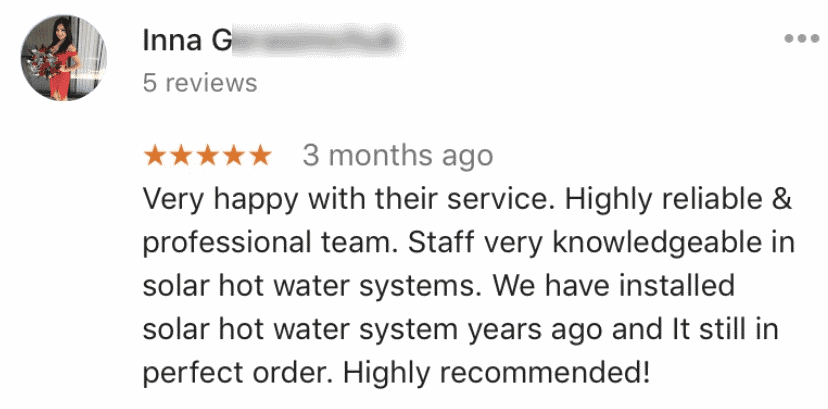 You left a very good impression and live up to the expectation of the great feedback from your clients.
Jim - Victoria Park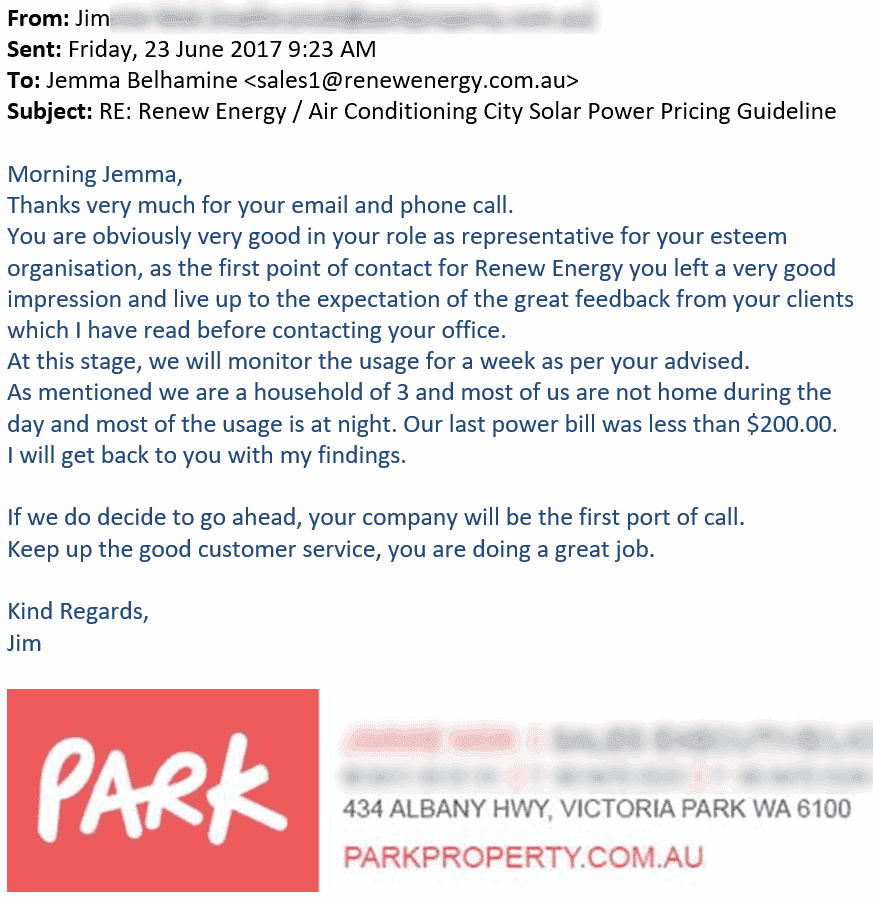 Renew will be at the top of my list when I can decide on the design of the PV system that best suits me.
J Poole - Mt Hawthorn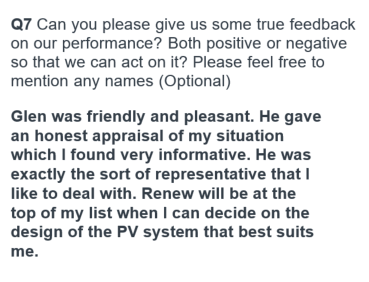 I got 6 quotes done and I did my research. These guys were way ahead of everyone.
Ravin P - Swan View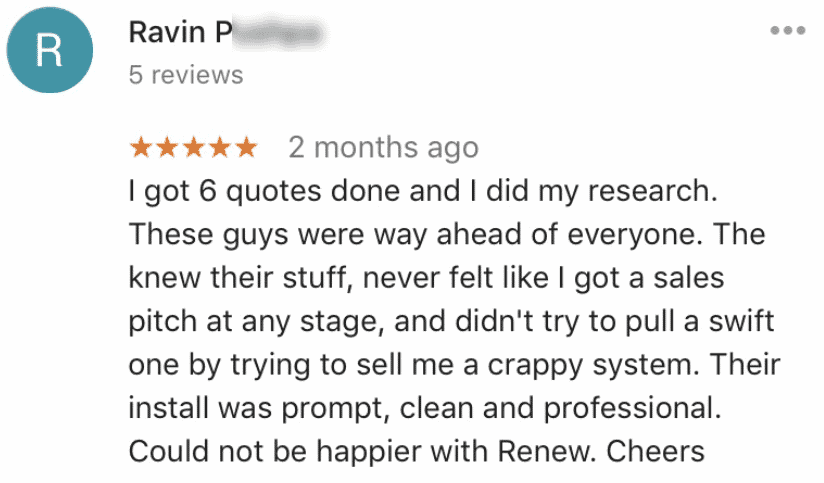 Thanks guys for very prompt service....
Helen T

Renew Energy came up (600+ return trip) within a fortnight of making the call and returned 10 days later to install.
Courtney M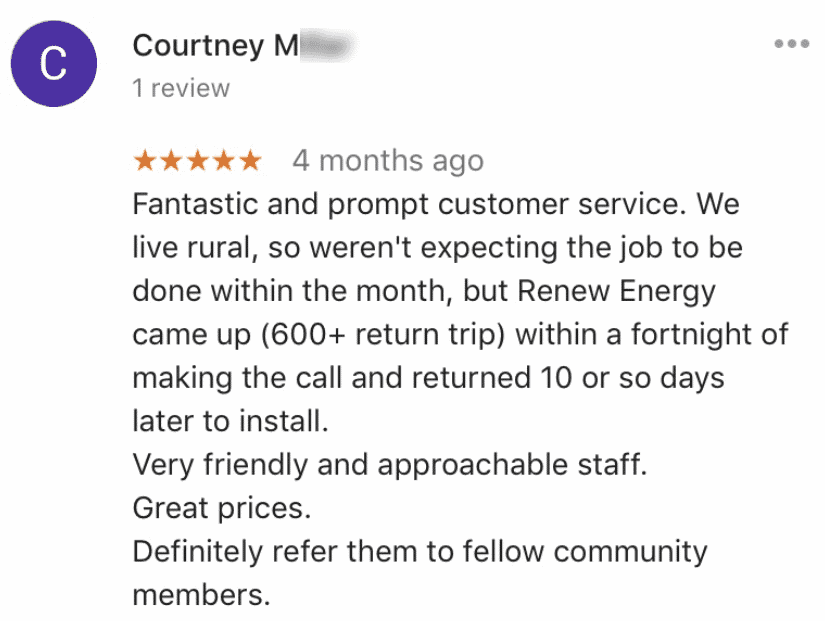 Glenn was nothing short of sensational and I would consider him a fine ambassador to the Renew Energy brand.
G Griffin - Alkimos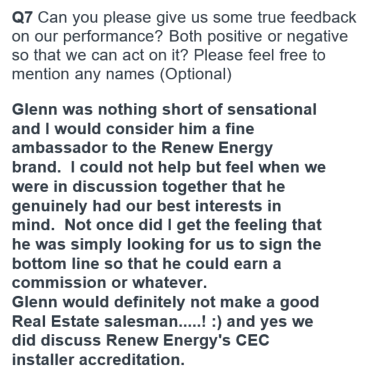 Got a quote and then 3 weeks later they were installed!
Lois R - Ashby